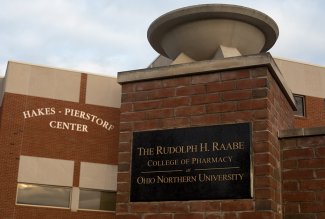 The Ohio Northern University HealthWise program recently received a $8,500 grant from the Buckeye Health Plan that will expand the program's services, specifically targeting the area's pediatric population.
This grant will assist ONU HealthWise in its efforts to expand its offerings from the traditional adult audience to the pediatric population, largely through health screenings and educational programs.
This project provides a focus on health from two different directions. The first is prevention, which will be executed by educating school children about healthy lifestyles, healthy choices and a life predicated on wellness. The second is on disease recognition and understanding of health risks, which will be implemented by screening parents and providing health education and referrals so the parents can better manage their own health.
ONU HealthWise, operated through the university's Raabe College of Pharmacy, provides health care and educational services to the ONU campus and surrounding communities. The program makes a healthy impact on area residents and offers ONU pharmacy students invaluable practical experience that prepares them for their careers.
The ONU HealthWise practice is a partnership between health education programs at ONU, including pharmacy, nursing, exercise physiology, athletic training and nutrition. Many of its services are provided at community gathering places through the rural mobile health clinic bus.
The HealthWise initiatives mirror the objectives of the university and the ONU College of Pharmacy in preparing students for lives of impact as accomplished professionals who also make a difference in their communities. This effort is a defining characteristic of the Ohio Northern educational experience.
The Buckeye Health Plan program awards grants to community organizations throughout Ohio that are working to improve the overall quality of life and meet the health care needs of low-income individuals.