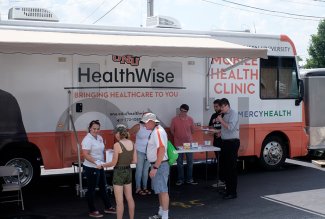 Ohio Northern University faculty recently received two 2020 Pinnacle Awards from the American Pharmacists Association Foundation. ONU HealthWise, the campus and community wellness initiative, and Dr. David Nau, professor of social and administrative pharmacy and an ONU pharmacy alumnus, were the award recipients for two of the three annual categories.
 
ONU HealthWise received the 2020 award in the category of non-profit organizations, and Nau received the 2020 award in the category of individual career achievement. In addition, the recipient in the category of health systems, OhioHealth, is led by Dr. Amy Beatty, senior director of pharmacy services, population health, who received her PharmD degree from Ohio Northern in 2003. All honorees will be recognized during a virtual APhA Foundation Pinnacle Awards Program event on Sept. 25, 2020.
 
ONU HealthWise is celebrating its 10th anniversary. It began as a campus wellness program and has expanded over the past decade, now encompassing a mobile health clinic, drug and health information center, a retail pharmacy and more. ONU HealthWise also hosts three postdoctoral residency positions for pharmacy graduates each year. 
 
Nau recently joined ONU as a faculty member. Prior to his return to his alma mater, he held tenured faculty and administrative appointments at several colleges of pharmacy. He has authored over 50 peer-reviewed articles in addition to co-authoring the book "Quality & Safety in Pharmacy Practice." He received his pharmacy degree from ONU in 1989, and then went on to earn a MS degree from the University of Toledo and a Ph.D. from the University of Florida.
 
"Polar Bears are leaders in the profession, and the national recognition from APhA for our alumni and programs is something for which every Polar Bear pharmacist can be proud," said Dr. Steven Martin, dean of the ONU Raabe College of Pharmacy.
 
Established in 1998, the annual Pinnacle Awards celebrate significant contributions to the medication use process through increasing patient adherence, reducing adverse drug events, promoting the use of national treatment guidelines, improving patient outcomes and enhancing communication among the members of the health care team. The APhA Foundation conducts research and engages in activities that support pharmacists' contributions to improved patient and public health outcomes.