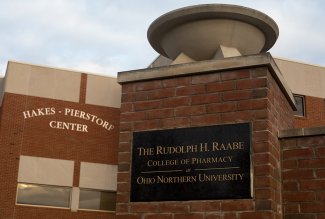 Ohio Northern University will use a mobile clinic to address substance misuse and behavioral health concerns thanks to a $100,000 grant from the Cardinal Health Foundation's Generation Rx Prescription Drug Misuse Prevention Education for Youth grant. The project will use a proven innovative model to employ an existing mobile clinic using a multidisciplinary team of student health care providers under the supervision of licensed professionals to address the problems of substance abuse, its leading cause, behavioral health concerns.
"Thanks to this impactful support from Cardinal Health, we will provide an entry point into the health care system for people who are at risk for substance misuse as well as those with behavioral health concerns among the medically underserved of Hardin County and portions of Allen and Hancock counties," said Dr. Steven J. Martin, dean of the Raabe College of Pharmacy. "These are rural communities with significant poverty and barriers to health care access."
Ohio Northern is one of more than 40 organizations across Ohio, Kentucky, Tennessee and West Virginia to receive a Prescription Drug Misuse Prevention Education for Youth grant from the Cardinal Health Foundation. As part of Cardinal Health's Opioid Action Program, these grants are designed to expand medication safety education for thousands of students in K-12 schools and universities using Generation Rx educational materials. Over the next year, each of the recipient organizations will engage students and parents in interactive prevention-education sessions and meet regularly with each other in a learning collaborative to share their progress, lessons learned and best practices. The collaborative will be led by experts in medication safety education and program evaluation from the Ohio State University colleges of Pharmacy and Social Work; CompDrug's Youth to Youth International will provide grantees with expertise in effective youth-led prevention.
"All of the organizations selected for funding share our goal of turning the tide on the opioid epidemic," said Jessie Cannon, vice president of Community Relations at Cardinal Health. "Ultimately, we expect our grantees to learn from each other – and we will learn from them. As they develop best practices, our goal is to spread this work throughout the country and foster solutions to this complex public health crisis."
A consortium of six community organizations has committed to participate in Ohio Northern's program, which will provide initial assessment, intervention, referral and follow-up care. Health care will be provided daily at various locations throughout the service area using a mobile health unit. Recent county health assessments identified substance abuse and behavioral health disorders as primary unmet health concerns. Barriers to addressing these concerns include a lack of programs targeting opiate, heroin and other drugs of abuse; the high cost of treatment; limited numbers of health providers for these issues; and a lack of connectivity of community resources.