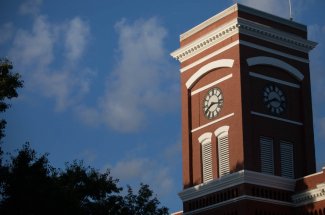 Ohio Northern University faculty and staff members contributed to a recent book about the opioid crisis and its impact on the state. "Not Far From Me: Stories of Opioids and Ohio," edited by Daniel Skinner and Berkeley Franz, was recently released by the Ohio State University Press.
ONU Professor of Sociology Keith Durkin authored a chapter to offer his insights from the perspective of a social sciences researcher. Further, ONU Raabe College of Pharmacy Dean Steven Martin, HealthWise Pharmacy Manager Katie Westgerdes and former staff member Amy Fanous collaborated for a chapter about health care outreach challenges and efforts in a rural setting.
The book is a series of vignettes that illustrate the opioid crisis' toll from a number of perspectives. According to background information, the book includes 50 first-person accounts by Ohioans who are at the center of this crisis.
The chapter written by Durkin, "A Little Too Close to Home," details how the crisis has hit rural areas particularly hard. As Durkin notes, the youngsters often begin their drug-abuse downfall with prescription opioids. As he further relates, these individuals are people, not just research numbers.
Durkin, along with fellow ONU faculty member Tristin Kilgallon and Hardin County court official Wade Melton, recently conducted a study and wrote a paper about the "perfect storm" of drug addiction in rural counties and the impact of heroin abuse on families in Hardin County. The paper examined the cases of 49 parents with a history of heroin use who were participants in a family drug court.
As related in the book chapter, among the findings of the study is the prevalence of psychological factors such as mental illness, family difficulties and peer behavior.
In the chapter "Rural Challenges, Rural Solutions," ONU College of Pharmacy colleagues combine insights from their research as well as ONU HealthWise outreach efforts in Hardin County and the region.
Martin provides an overview, "Confronting the Challenges," by sharing how rural areas are prime ground for the opioid crisis to take root and includes gripping illustrations he has witnessed.
Amy Fanous, the former director of the ONU HealthWise mobile clinic, talks about the college's outreach efforts and the clinic's value in a region where access to health care resources is a challenge in "A Role for Mobile Clinics."
Westgerdes closes the chapter with "The Role of Community Pharmacies," which discusses the unique role of these pharmacies; the resources that are available to combat prescription drug abuse; and the difficulty in addressing this problem, including a sometimes-fragmented health care system.
The book includes a forward by former Ohio Gov. Ted Strickland and has received rave reviews from individuals such as Ohio senators Sherrod Brown and Rob Portman, as well as nationally-recognized author Sam Quinones, who wrote "Dreamland," a book with a similar focus. Quinones spoke at ONU in October 2018.
The impact of opioid abuse was a point of emphasis at ONU during the 2018-19 academic year as the university looks to strengthen the quality of life for area residents. The university has formed the Northern Opioid Alliance, and several staff and faculty members are involved in area communities, joining with leaders in crafting responses to the opioid epidemic in our region.