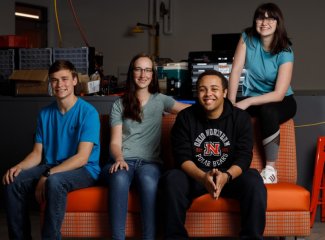 Four Ohio Northern University students have been selected as University Innovation Fellows (UIF) by Stanford University's Hasso Plattner Institute of Design. The students, who are enrolled in ONU's Smull College of Engineering, are Andrew Bergmann of Grandview Heights, Ohio; Katelyn Keckler of Brunswick, Ohio; Matthew Opara of Findlay, Ohio; and Cassandra Stuber of Lima, Ohio.
The University Innovation Fellows program is designed to encourage student participants to further develop the design-thinking, innovation and creativity to make the most of their college experiences and succeed in their career pursuits.
Students who are involved in the program are supported by faculty and administrators and are selected through an application process. Following acceptance, students participate in a six-week online experience. In spring 2020, the fellows will have the opportunity to participate in the program's Silicon Valley Meetup in California, where they will engage with leaders in education and industry.
The current class includes 360 students from 90 higher education institutions in 13 countries. With the addition of the new fellows, the program has trained nearly 2,200 students since its creation.
The ONU students were able to complete training and attend the meetup thanks to the support of the Kern Entrepreneurial Engineering Network and the Kern Family Foundation.
Ohio Northern's Smull College of Engineering is ranked 32nd nationally among engineering programs that offer a bachelor's or master's degree as the highest degree in the 2020 U.S. News & World Report Best Colleges rankings. This marks the 12th time in the last 13 years that ONU's College of Engineering has been ranked as a top-50 program.