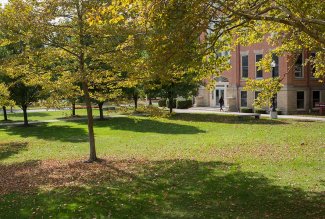 Diana Garlough, Ed. D., Ohio Northern University assistant professor of education, had a proposal accepted to deliver a presentation at the World Literacy Summit in Oxford, England, on March 27. Garlough is chair of the Department of Education and the accreditation coordinator for teacher education at ONU.
Her presentation involves "Moving the race/culture discussion forward in classrooms" and uses a framework meant to promote racial healing through honesty, empathy, advocacy and action. "The framework I will present is one means of helping teachers feel comfortable talking about race in classrooms," Garlough explained in her proposal.
As Garlough notes, most U.S. teachers are of middle-class status, are of European-American descent and speak only one language. By contrast, many of their students are from ethnic and racial minority backgrounds, live in poverty, and speak first languages other than English.
"Using multicultural literature with this framework can help teachers better understand their non-dominant culture students. Though white teachers do not share cultural frames of reference with their non-white students, they share a classroom space where we hope they live and learn together. Using the proposed framework with multicultural literature can help all teachers use the literature as windows in their students' lives," Garlough stated in her proposal.
Garlough is a former elementary school teacher who has taught learners in grades one through nine, focusing on teaching struggling readers. She joined the ONU faculty in 2001.
Her university teaching includes Literature for the Early Childhood Classroom, Foundations of Literacy and Phonics and Word Study, as well as other classes. Her scholarly interests include numerous areas of literacy instruction, aspects of multicultural education and various leadership topics. Garlough has been active with the Executive Board member of the Ohio Council of the International Reading Association, the Buckeye Children's and Teen Book Award Committee, and the Ohio Association of Colleges of Teacher Education (OACTE) Board of Trustees, serving on the Advocacy Committee.