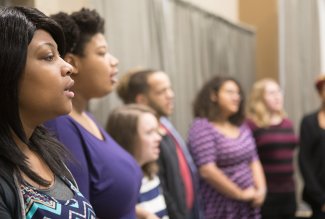 Two Ohio Northern University colleagues who share a long friendship have come together to tell a meaningful history.  
Adriane Thompson-Bradshaw, vice president for student affairs, and Margot Cullen, associate professor of English, co-authored a chapter for a new book. The chapter, "Gospel Music: Cultural Artifact or Cross-Cultural Opportunity?" appears in "Exploring, Experiencing, and Envisioning Integration in US Arts Education."
The book, which was published by Palgrave Macmillan in March 2018, is a project of the New American Colleges and Universities (NACU). It explores the purposeful integration of liberal education, professional studies and civic engagement through the performing, literary and visual arts.
The chapter discusses gospel music from multiple perspectives, including the specific case study of the ONU Gospel Ensemble, which Thompson-Bradshaw directs.
"The Gospel Ensemble has been active on campus for 31 years," says Thompson-Bradshaw. "Over that time period, it has evolved, completely beyond my vision, to be a place of inclusion. When the group first started, our members were all African-American, and our outreach performances took us to white churches in the area. It was a very different experience to be spreading gospel music to places and people that might never have worshipped God in this way."
In the chapter, Thompson-Bradshaw and Cullen talk about the transition of gospel music over racial and religious boundaries. "One of the questions I wanted to address in my doctoral dissertation was whether gospel music can, and has been, cross-cultural, and not just an artifact of black culture," says Thompson-Bradshaw. "Gospel music is inherently spiritual, and when performed as an act of praise and worship, I believe that aspect makes it authentic. Gospel music is not a spectator sport; it's meant to be inclusive, not just presentational."
In summer 2016, book editor Nancy Hensel approached Thompson-Bradshaw about writing a chapter for the book. Thompson-Bradshaw began composing a draft based on her doctoral dissertation in American cultural studies. When her mother became ill during the process, Cullen stepped in to assist her friend with completing the work. In working together, the relationship between the two friends was able to flourish.
Thompson-Bradshaw wrote the introduction and synopsis of the chapter, and Cullen drafted the first version. Then, they worked together on all the stages of editing before publication. "The final product was a gift from God," said Cullen.
The article shows how the ensemble provides participants with an avenue for awareness of diverse backgrounds and the ability to create cross-cultural connections.
"I am pleased that the chapter demonstrates that, in an inclusive arts environment such as the Gospel Ensemble, differences can be acknowledged openly," Cullen said. "It is my hope that the chapter will encourage others to see that the innovative use of music in the liberal arts education at ONU can prepare students for cultural adaptability in their careers and engagement with their larger communities."
The Gospel Ensemble has become a mainstay of ONU's community outreach efforts in connecting campus and community while broadening horizons.
In reflection of larger society, the racial and ethnic makeup of the Gospel Ensemble has changed over the years.
"Gospel music has been changing since Thomas Dorsey first promoted it in the 1930s, so it makes sense that the ensemble would also experience cultural shifts," Cullen said.
Thompson-Bradshaw also has noticed the change.
"When we first began outreach efforts with the Gospel Ensemble, some of the church congregations were not used to the participatory nature of this kind of worship," Thompson-Bradshaw said. "But over time, as the ensemble began to diversify racially and ethnically, we saw that the audiences were more willing to participate. Churches could see themselves in the members of the ensemble, and they were able to connect with the music on a deeper level."
The Gospel Ensemble's cross-cultural exchanges are uneasy sometimes, even today, but the group still provides a place for conversation.
"Where we have struggled with racial identity in this country, Gospel Ensemble has been there to give us an opportunity to expose people to different races and cultures and get people talking, both within the ensemble itself, and to congregations during outreaches," says Thompson-Bradshaw. "We get to talk and connect with each other, especially through the mode of gospel music. Because of the participatory presence of gospel music, there's a give and take happening between all different kinds of people, and it's able to break down those barriers between us."