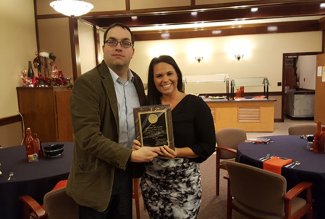 The Ohio Northern University chapter of the Society for Collegiate Journalists (SCJ) has received the Outstanding New Chapter Award from the National Office of SCJ. In order to be considered for this award, a chapter must be reactivated or chartered for two to six years and be recognized as a new and energetic member of the SCJ family. 
"I am very moved that the Society chose us for this honor," said Shane Tilton, chapter advisor and assistant professor of multimedia journalism.
SCJ listed the chapter's monthly speakers forum as a reason for selecting Ohio Northern University for this award. Last semester, the chapter invited Brian Unger, Mandy Jenkins, Amy Eddings and Heather Rutz to campus to speak about the issues facing local and national journalists.
ONU chapter president Ashlee McDonnell, a senior multimedia journalism major from Elida, Ohio, said, "This is very exciting not only for our chapter but for ONU as well since we have such a rich history with the national society."
Along with the Outstanding New Chapter Award, Tilton received the Outstanding New Advisor award. Tilton was recognized for his work in restarting the chapter on campus after a long hiatus. Ohio Northern University was one of the founding members of Alpha Phi Gamma, the predecessor to the Society for Collegiate Journalists.