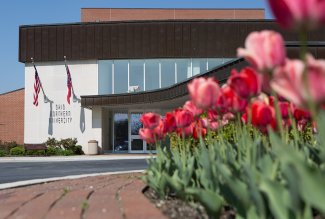 The Ohio Northern University chapter earned 11 awards for excellence in college journalism in the Society for Collegiate Journalists' (SCJ) annual contest.
Graduating senior Grant Pepper was the most awarded collegiate journalist for the second year in a row with seven individual awards. He earned first- and second-place prizes in the radio sports package category for his work on "The Pep Talk." He also won first place in the sports news category for his article "Where does ONU stand on kneeling?" Additionally, Pepper earned three second-place awards for continuing coverage, sports features and hard news. He also was awarded an honorable mention in the hard news category.
Junior Grace Huff and graduating senior Kasy Long both earned honorable mention recognition, Huff in the column or commentary category and Long in the features category for her article on Ameera Ansari when Long was editor of Northern Review.
Northern Review staff earned a second-place award for its editorial on the value of the press, and the newspaper earned honorable mention for online news website.
Pepper also was awarded a Medal of Merit by the ONU chapter, which is the highest award a chapter can award one of its members and honors a continued level of excellence within the local media of the university.
Further, graduating senior Emily Richards and junior Dominic Turnea were each awarded a Certificate of Merit, which recognizes a member (current or alumni) who has made significant contributions to campus media.
The SCJ's annual collegiate journalism and student media contest is the only one of its kind judged exclusively by professionals in the field. Members of all 152 chapters of the society are eligible to participate.
Assistant Professor of Multimedia Journalism Shane Tilton, Ph.D., is the adviser for the Ohio Northern chapter of SCJ. The chapter was one of the founding chapters for Alpha Phi Gamma, which would later become the Society for Collegiate Journalists.