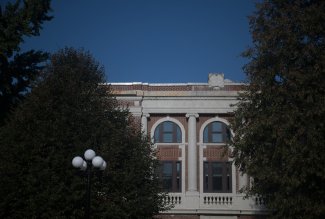 Members of the Ohio Northern University African Drumming and Dance Ensemble were chosen to perform at the recent National Association for Music Educators (NafME) conference in Dallas. The ensemble, which consists of nine students, was one of only seven groups invited to perform at the convention, which brings together music educators, district arts supervisors and leaders in the music education profession.
ONU Associate Professor of Music Sarah Waters, Ph.D., director of the group, said, "I am very excited for our students to have this once-in-a-lifetime experience and to be able to perform on a national stage in front of music educators from across the nation. I hope the students feel proud that we were chosen for this opportunity. This is a huge honor, and I hope they will remember this performance for a lifetime."
Waters submitted an audition tape of the students' performance, and the ensemble was then placed on a short list. After some time, the group received word that they were accepted to perform at the conference.
The group performed three dances they were taught by the Ghana Dance Ensemble and Ben Obido Ayette, a Fulbright-in-residence professor who was recently at ONU. The dances were "Bima," "Kpatsa" and "Fume-Fume." The ensemble's drummers also played a short feature during a break between sets.
"I feel honored to participate in this event," said ensemble member Georgia Snelling of Findlay, Ohio, who is majoring in electrical engineering with a minor in computer science. "This performance means that I can show others how African culture and dance have impacted my life and hopefully inspire other students to try something new."
The students who performed in Dallas were Kai Breeden of Westerville, Ohio; Alex Chapman of Westerville, Ohio; Noah Floyd of West Liberty, Ohio; Adam Grim of Lima, Ohio; Audrey Livingston of Ashville, Ohio; Michael Sapienza of North Ridgeville, Ohio; Lydia Smith of Celina, Ohio; Georgia Snelling of Findlay, Ohio; and Chloe Ulmer of Bucyrus, Ohio.