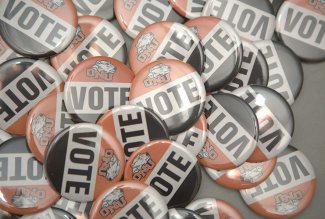 ADA – Ohio Northern University students and faculty will help shape the future of their community, country and the world by lending their knowledge and skills to the new Institute for Civics and Public Policy (ICAPP) at Ohio Northern University.
 
At this pivotal point in history, ICAPP is giving ONU students and faculty a voice in the national conversation. Non-partisan and education-based, it's a bold and innovative initiative to promote good citizenship through education and information. 
 
ICAPP is concerned about any issue impacting citizens in the Midwest. So whether passionate about health care, the environment, racial justice, alternative energy, education, voting rights or some other topic, students and faculty can assist ICAPP in its mission to promote civic literacy and an informed understanding of public policy. ICAPP seeks the participation of students and faculty across all the university's colleges and majors.
According to ICAPP's founding director, Robert Alexander, "There is a lot of expertise on our campus, and we are hoping to put it to use beyond our classrooms and for the greater good of our communities. We have a long tradition of faculty-student collaboration, and it is our goal to conduct research so that citizens and policymakers can make good decisions based on solid evidence."
Ohio Northern's founder, Henry Solomon Lehr, envisioned a university where graduates would take their knowledge, skills and intellect into the world to serve the larger society. ICAPP supports Lehr's vision through intentional programming and collaboration between faculty and students.
 
Here are some of ICAPP's initial undertakings:
    •    Presidential election polling. Which candidate is leading in key Midwestern swing states? ONU students, in collaboration with students from Baldwin Wallace University and Oakland University, are conducting high-quality presidential polling, generating data that's being cited by major new outlets.
    •    Voter registration and engagement. Throughout the fall, ICAPP is working with student groups to support voter registration and provide information on various modes of voting among the student population. 
    •    Celebrating women's right to vote. Through a design workshop this October, ONU students are bringing the public's attention to the struggles and triumphs of the women's suffrage movement and the 100th anniversary of the ratification of the 19th amendment.  
    •    Informing Health Care Policy. While the nation grapples with the coronavirus pandemic, ONU faculty and students have conducted research examining public perceptions regarding the pandemic, produced videos to explain the public health implications of it, and conducted research examining mental health concerns among teenagers in our region. These efforts are shared with the broader community, including research briefs that are utilized by government representatives.
    •    Engaging the ONU community with the fall election. ICAPP is leading collaborations with multiple groups on campus to hold debate watch parties and issue forums; culminating with an Election Night watch party on Nov. 3. 
 
In addition to Alexander, ICAPP benefits from the assistance of students who serve as ICAPP Fellows. The Fellows provide a range of support including planning, development, research and outreach. Hannah Ray, Harrison Zeller, Andrew Mantanieks, Kennedy Cook and Andrea Hoffman served as the inaugural ICAPP Fellows for 2020.
 
Alexander believes that students and faculty throughout the university will be able to contribute to ICAPP's programming. "I am really excited about the possibilities for collaboration with students and colleagues across the university. Most all of us have knowledge relating to some type of public policy and being able to use our expertise to improve decision making is a responsibility we have to the larger community. I'm looking forward to encouraging healthy debate grounded in sound research. Doing so is critical so we are all able to best contribute to the democratic process."