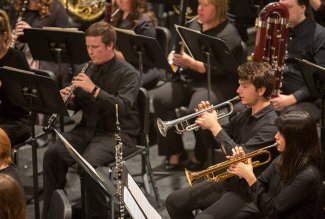 Several select Ohio Northern University students had the opportunity to display their talents on a larger stage when they performed with the Lima Symphony Orchestra during the recent "American Elegance" program in Lima's Veterans Memorial Civic and Convention Center.
A total of 14 ONU students mixed with professionals and further improved their skills in a learning experience that will expand their musical horizons.
"The opportunity for students to perform side-by-side with a professional orchestra is extraordinary," ONU Assistant Professor of Music Travis Jürgens said. "They received direct instruction and coaching from professionals who are playing alongside them on the same part. Further, they were exposed to a professional rehearsal atmosphere in which the level of playing is very high."
The experience promises to have a long-lasting impression on the ONU students and even their classmates.
"This high-impact opportunity challenges them to achieve new heights of excellence in their musical abilities," Jürgens said. "These students then bring these enhanced abilities back to the Ohio Northern Symphony, and they serve as leaders to challenge the other members of the orchestra to continually improve the quality of the ensemble, which is already very strong."
Participating students were Jessica Sieg, flute; Paige Stafford, clarinet; Rayanne Nye, bassoon, Ian Smith, French horn; Kai Breeden, trumpet; Austin Friess, trombone; Noah Floyd, percussion; Jaekyeong Choi, Kevin Tan and Naomi Bernholt, violin; Elizabeth Steele, viola; Carol Ann Wedding, cello; Cameron Fogle, viola; and Alexander Diehl, bass.