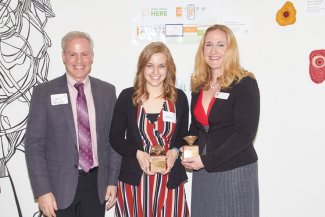 Ohio Northern University senior graphic design major Emily Fergus was one of six seniors statewide to earn an Association of Independent Colleges in Ohio (AICUO) Award for Excellence in the Visual Arts. Additionally, Fergus won the People's Choice Award.
Her award-winning submission incorporated three projects that are both creative and practical. The first project, "Here, Here and Here," is an interactive experience that takes visitors through areas in Ada. The second effort, "Urban Forest Project," adapts a national initiative to Ada, and the third project involves reusable bags.
"The 'Here, Here and Here' project includes an app, website and artwork from local artists. I created it to get local residents and visitors more invested in the history around them and to have an experience together," Fergus explained. "With the Urban Forest Project, by bringing families and the community together, a better conversation can be had about the importance of trees and the ways they impact how we live. Reusable bags allow us to rethink the ways that we shop so that we can have a massive environmental impact. My kit makes users reevaluate their shopping experience, actually making it easier to choose to reuse."
Fergus' efforts are both inspired and inspiring.
"Emily's work is not about what she does but, rather, what she encourages and enables others to do, which is a very different way of thinking and problem-solving," said William "Brit" Rowe, ONU associate professor in graphic design. "Her portfolio demonstrates how she is using her skills and knowledge to build better communities and to solve complex problems."
Fergus uses her artistic talent to make an impact.
"We all take things for granted, especially the everyday," she said. "It all happens quickly, and we fall into routines and get adjusted to our environment and the way we live. Then, suddenly, we forget to really look at what is around us. But, the mundane is not really mundane, and how we live our lives makes an impact on our world. Art is about making statements and making a change; it is about using your craft to support what you believe in. I believe in making people re-see the world around them, and, as a graphic designer, I aim to make my work do that."
Fergus has accepted a position as a creative developer with Xcelerate Media in Dublin, Ohio.