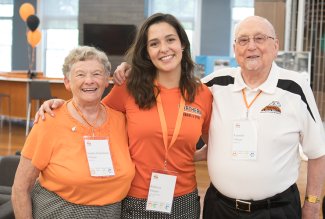 Ohio Northern University will host its annual Alumni Weekend from June 1 to June 3.
The class of 1968 will have a special celebration dinner on June 1 for its 50-year class reunion. All other classes celebrating 55, 60, 65 and 70 years will have an opportunity to celebrate at the Alumni Association Luncheon on June 2. Even if it is not a reunion year, alumni are encouraged to return to ONU from the classes of 1968 and earlier to celebrate ONU from their time as students.
While on campus, alumni will have the opportunity to participate in special programs and events as well as connect with former classmates.
Contact the Office of Alumni Relations at 419-772-2727 or alumni@onu.edu with questions. More information on Alumni Weekend can be found online at www.onu.edu/alumni.