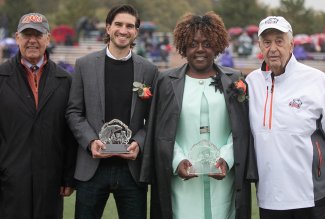 Ohio Northern University alumni Elizabeth Ekole and Brendan Thompson are the latest recipients of the William L. Robinson Young Alumni Award from their alma mater. The award was established by the ONU Alumni Association to honor individuals who have graduated from the University in the last 15 years and who demonstrate passion and loyalty toward their profession, community and alma mater.
Ekole and Thompson were recognized during ceremonies prior to ONU's Homecoming football game on Oct. 27. Bill Robinson and ONU President Daniel DiBiasio presented the awards.
Ekole, who now resides in Rochester Hills, Mich., attended high school in the West African country of Cameroon. She earned a PharmD from ONU in 2006 and later received a Ph.D. in health services leadership from Walden University.
Ekole is currently senior clinical consultant for physician engagement with Express Scripts, and the client and region she covers is BCBS of Michigan. She's a certified executive coach, a certified diversity and inclusion practitioner and speaker, and a human behavior consultant (DISC). She's been trained in NLP (neuro linguistic programming), and she specializes in techniques that are designed to raise self-awareness/other awareness and how to intelligently collaborate with others. She recently spoke and trained leaders at the Harvard Global Health Summit on collaborative relational intelligence.
Further, she and her husband, Dr. Alphonse Ekole, have established "The Fountain of Hope Missions," which recently completed a church building, renovated a village community hall, sponsored SASSE excellence sports tournaments to promote education, sponsored orphans and opened a clinic to provide basic medical care to residents of nine villages in Cameroon. The organization has also provided free consultations and medication to uninsured individuals in the Detroit, Mich., region as well as school supplies for homeless children. Among the awards Ekole has earned are the 2017 Philanthropic Award by Priority Home Health Care, the 2016 AID IMPACT award by Harvard Global Health Summit, the 2015 Who's Who African and African American Achievement award by the International Institute of Metropolitan Detroit and recognition for changing physician engagement by a fortune 25 Company. The Fountain of Hope Missions earned the 2016 Kingdom Dream Award by Evangel Ministries.
Ekole, who was a Dean's List student at ONU, remains connected to the University and has served as a guest speaker for pharmacy events.
Thompson, who resides in Waynesfield, Ohio, is a graduate of Medina (Ohio) Senior High School. He earned a bachelor's degree in mechanical engineering from Ohio Northern in 2003. An entrepreneur, he is currently president of three companies located in Lima, Ohio: PTC, 50 Strong and JL Main. PTC is a manufacturing company that specializes in plastic parts for consumer goods, beverage, automotive, specialty industrial and several other industries. 50 Strong is brand that focuses on getting individuals and families to "Get Out and Do More" through its fitness-focused product line of hydration bottles, mixers and bike accessories. JL Main is a fulfillment and distribution company that ships millions of items each year to retailers, businesses and directly to consumers.
Thompson's business insights are highly regarded, and he has appeared as a guest on Fox TV's "Mornings with Maria" show as well as the Cheddar TV Network, which focuses on financial news.
Beyond his business accomplishments, Thompson has contributed to the community. In fact, the 50 Strong Foundation was established by Thompson and his wife, Ashley, a fellow ONU graduate, to provide scholarships to help manufacturing workers learn a skilled trade.
Additionally, Thompson's ties to his alma mater remain strong, and he has continued to mentor ONU engineering students following in his footsteps. Each year, he speaks to freshman engineering students, sharing his advice and experiences, and he speaks with senior engineering students about the power of communication in their profession.
While an ONU student, Thompson was captain of the men's soccer team and earned Academic All-America recognition.
The Young Alumni Award is named in honor of Bill Robinson, who devoted 45 years of service to the University and who has mentored and counseled countless ONU students. He remains a staunch supporter of ONU's mission, values and vision.