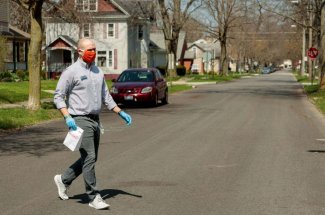 When it comes to community service and pharmacy outreach, Clay Miller delivers – figuratively and literally. Miller, a resident with the Ohio Northern University Raabe College of Pharmacy HealthWise program, was able to draw on his experience as a former pizza delivery driver and lead the implementation of a similar service with the ONU HealthWise Pharmacy.
Thanks to Miller's innovation, the pharmacy now offers free prescription delivery service to anyone within a 40-mile radius of Ada. Individuals interested in this service should call 419-772-3784. 
"When delivering pizzas in Ada, I saw the utility aspect of this type of service and how it could be applied to a pharmacy setting," said Miller, a graduate of Manchester High School near Akron, Ohio. "Plus, in a rural community, there is a special opportunity to use transportation to connect people with the pharmacy."
With the spread of the COVID-19 virus, the service is of particular value.
"Since the virus hit and the restrictions that have been placed on interaction, more people are not leaving their homes, and the need for the deliveries is greater," Miller said.
The delivery service, which was implemented in January, engages with about 10 patients a week, and the expectation is the volume will increase during this period when social distancing is encouraged.
Miller, a former safety on the ONU football team, understands the value of teamwork and making a difference.
"This delivery service is one of the situations where a health care professional can make more of an impact," he said. "It is fulfilling to be able to create worthwhile moments."
This initiative is a natural outreach for Miller, according to his mentors at ONU.
"Our residents are required to complete a project during their 12 months with us, and we challenge them to develop a new service or implement an innovation into an existing service or program," HealthWise Director Michael Rush said. "Clay has always shown a strong desire to assist those around him. No one anticipated nine months ago the need we are now seeing for this service in our community."
Although Miller is from northeastern Ohio, he has become acclimated to this region that has served as his college home.
"Once I became familiar with the community, it has become like one large family for me," he said.
Miller, who earned a PharmD degree from Ohio Northern in 2019 and is a licensed pharmacist, has accepted a full-time position at a pharmacy in rural North Carolina which he will begin in July.