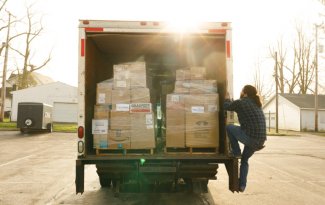 Polar Bears take action, and members of Ohio Northern University are putting community service into action by assisting with area efforts to respond to the COVID-19 pandemic. Following are some examples.
Assisting with the mining of DNA sequence data
Ohio Northern is lending specific equipment and expertise from its forensic biology program to Lima Memorial Hospital to assist in the diagnosis of COVID-19 infections.
The detection of specific RNA sequences can assist in the differentiation of COVID-19 from the other four types of coronaviruses that cause respiratory diseases. The detection of specific transcript/sequences with the Quidel Lyra SARS-CoV-2 test is performed by a technique known as RT-PCR (Real Time-Polymerase Chain Reaction). In this application, this technique detects for the presence of specific known RNA (ribonucleic acid) sequences from the COVID-19 virus.
This procedure starts with the collection of nasopharyngeal (NP) or oropharyngeal (OP) swab specimens. The swab is transported in a specific medium for transport to the where it is stored until tested. Presently, the test is sent to another laboratory for testing. The validation of the method will allow Lima Memorial Hospital to perform the testing for physicians ordering the test but with a shortened turnaround time for results for better and earlier treatment of the patients.
In this procedure, once a swab sample from an individual arrives at the lab, the RNA is extracted and loaded into a 96-well plate, and measurements are made in an instrument, preferably an Applied Biosystems 7500 Fast Dx thermocycler. Then, virus-specific primers and probes identify and reproduce millions of copies of the specific RNA sequences that are found in the COVID-19 virus for detection in the instrument detector. This is one of the advantages of this specific instrumentation which ONU possesses.
The equipment, the AB 7500 Fast Dx thermocycler, is normally used by ONU's forensic biology program to quantify human DNA found at a crime scene. Quantification is required prior to the amplification and analysis of forensic STR profiles of DNA, but it can also be used for other nucleic acid testing such as the COVID-19 virus tests.
ONU Associate Professor of Biological Sciences Dennis De Luca, Ph.D., is a molecular biologist by training and director of the forensic program. He volunteered his time and expertise to assist Lima Memorial Medical Center with bringing the test online for use in the diagnosis of the SARS-CoV-2 test, training the medical laboratory scientists and assessing the performance to perform this test. 
The need for more testing is imperative for the diagnosis of the specific respiratory disease in the cases presented to physicians in order to provide proper care for the patients.
Donating PPE to Hardin County organizations
Ohio Northern University donated personal protective equipment items to Ohio Health Hardin Memorial Hospital and the Kenton Hardin Health Department. The items included 80,000 gloves; 200 N-95 exam masks; 300 pairs of goggles; 100 pairs of safety glasses; and 500 surgical gowns and lab coats.
Drop-off location for fabric masks
The Lima Memorial Hospital Foundation has placed a fabric mask drop-off location outside of ONU's Freed Center for the Performing Arts. Countless individuals from the area are sewing face masks, and Lima Memorial Hospital will ensure the masks are properly laundered and processed for use before being distributed to area health care entities.
ONU HealthWise Mobile Health Clinic transitions activities
Normal ONU HealthWise Mobile Health Clinic activities have been transitioned to virtual appointments. For example, the clinic has a grant with Activate Allen County to provide tobacco cessation services to individuals on-site at the West Ohio Food Bank. That service is being continued in a virtual format. The mobile clinic has been asked by the Kenton Hardin Health  Department to assist in several ways, most notably with contact monitoring for persons under investigation for COVID-19. The mobile clinic vehicle has also been offered to area health departments and hospitals to use as they see fit if the pandemic worsens in this area.
Pharmacy students assist with contact tracing
Three ONU Raabe College of Pharmacy students are assisting the Kenton Hardin Health Department with a special project. The KHHD currently has a large number of persons under investigation for COVID-19 and needs help with contact tracing. Students were trained to do this on-site at the health department on April 2. From there, each student is being assigned a day of the week to go to the KHHD to assist their nursing staff with this need.
ONU HealthWise Community Pharmacy continues to serve community
ONU HealthWise Community Pharmacy will remain open from 10 a.m. to 6 p.m., Monday through Friday and Saturday 10 a.m. to 2 p.m. Call 419-772-DRUG with questions. The pharmacy has extended its home prescription delivery service to all patients in Hardin County and to anyone living within 40 miles of the pharmacy, including Lima and Findlay. Curbside pickup at the pharmacy is also available. Individuals interested in this service should call 419-772-3784. The pharmacy can transfer prescriptions from other pharmacies to allow anyone to take advantage of this service. Prescriptions may be refilled through the website, the app and telephone: 419-772-3784.