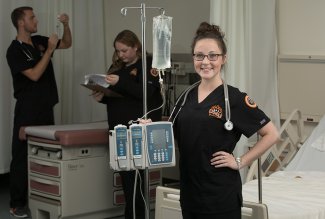 Ohio Northern University's nursing program continues to be recognized for its effectiveness in preparing students for their careers. RegisteredNursing.org recently ranked ONU's nursing program fifth among 89 RN programs in Ohio.
The ranking analyzes several factors and is based largely on students' passage rates on the NCLEX-RN exam over a five-year period, from 2013 through 2017. College graduates need to pass the NCLEX exam to become practicing registered nurses (RN).
"Our five-year passage rate on the NCLEX nursing board exam is 95.4 percent," said Kami Fox, ONU's director of nursing and chair of the Department of Nursing. "I attribute much of our success to our commitment to clinical experiences that provide our students with relevant, high-impact learning opportunities. For example, our students begin clinical experiences during their sophomore year and acquire 210 hours of clinical experience in their senior capstone courses."
Interaction between faculty members, who bring strong experience in their fields, with motivated students also is a distinguishing feature of the ONU nursing program."We have clinically experienced faculty members in a variety of areas who have strong connections with the students throughout the program," Fox added. "Most of all, our students are committed to excellence and active learning."
The ONU nursing program enrolls 121 students in its bachelor's degree program, which prepares students for careers in the growing health care industry.
The entire listings are available online at
https://www.registerednursing.org/state/ohio/#rankings