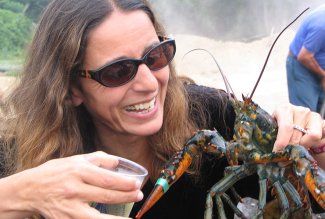 Adina Paytan, Ph.D., will discuss "Using oxygen isotopes in phosphate for source tracking and P cycling" at 3 p.m. on Oct. 2 in room 248 of the Mathile Center for the Natural Sciences at Ohio Northern University. She will give a second lecture, "Coral and Acid – Impacts of ocean acidification on coral reefs," at 7 p.m. on Oct. 3 in the Dicke Forum inside James F. Dicke Hall. Both talks are part of the Kritzler Lectureship in Chemistry Series at ONU, and both are free and open to the public.
Paytan is a research professor at the Institute of Marine Sciences at the University of California, Santa Cruz, and was an assistant professor at Stanford University and a postdoctoral researcher at Scripps Institute of Oceanography at the University of California, San Diego. As part of her post-doctoral work, she produced a high-resolution seawater sulfur isotope curve for the past 120 million years.
The major focus of Paytan's current research is understanding past and present marine biogeochemical cycles. She has co-authored more than 200 peer-reviewed publications and has received more than $11 million in external grant support as well as numerous awards.
The Kritzler Lectureship in Chemistry seeks to highlight fundamental new developments in the science of chemistry and biochemistry and afford students access to these developments presented by a scientist recognized as a masterful communicator of ideas. The series was named in honor of Dr. James H. Kritzler, an Ohio Northern University alumnus. After graduating from ONU and completing his doctoral work in osteopathic medicine at Kansas City College of Osteopathy in 1944, Kritzler began a medical career that ranged from family practice in Amarillo, Texas, to medical radiology in hospital practice in Houston. He retired in 1983 and continued to volunteer in various civic, service and professional groups. At the age of 78, he passed away on Feb. 28, 1998.