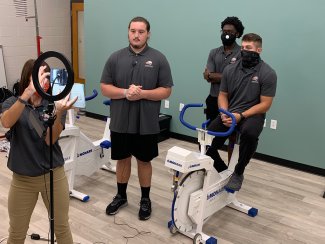 Exercise physiology students pilot new e-fitness project to help keep the ONU community healthy and active 
From the workout video craze of the 1980s to the YouTube age, television fitness is not a new thing, but the onset of the COVID-19 pandemic gave rise to an explosion of renewed interest in remote fitness programs. Now, on the heels of a global lockdown, a group of Ohio Northern University exercise physiology students are offering a new take on a traditional personal training course.
For many years, one of the foundational experiences for students in the exercise physiology program has been the "Practical Applications in Exercise Physiology" course. In its traditional format, the course provides a framework for students to work one-on-one with an ONU faculty or staff client to develop a 12- to 13-week fitness plan specifically tailored to the client's personal fitness goals. Student-trainers would meet with their client every Monday, Wednesday and Friday for 50-minute sessions. The project is always highly anticipated by both students and faculty/staff clients, who would be paired together through a random selection process.
For Associate Professor of Exercise Physiology Ed Potkanowicz, the practical applications course has always presented tremendous value and potential. The idea to introduce e-fitness content into the class has been in the back of his mind for quite some time, and when the pandemic hit, he saw an opportune time to present the idea as a way to adapt his students' curriculum for the class to allow for social distancing.
"When ONU classes moved online, I saw the idea of introducing e-fitness content as a way to solve two problems," he says. "First, it would allow my students to continue to interact with their clients for the remainder of the semester. Secondly, it would allow us as a class to provide fitness programming to the entire campus community as it became apparent that the lockdown wasn't going to end soon and people were starting to miss being physically active."
Once it became clear that COVID-19 was going to impact classes this fall, Potkanowicz set the wheels of planning into motion and began to gather all the necessary parts and pieces to make e-fitness at ONU a reality.
The result has become a new program called Next Step-You. While the core learning objectives of the project are the same as before, the delivery method has been switched to an exclusively online format. Another added change is that the "client" is the entire campus community, rather than just one faculty or staff member per student.
Over the course of the Next Step-You project, the student-trainers are creating, filming and posting e-fitness content to an internal ONU portal for faculty and staff to view at their leisure. The 5- to 10-minute videos cover topics like basic fitness guidelines, different kinds and types of exercise, nutritional suggestions, and even how to manage the stress of the pandemic by introducing regular physical activity into a daily routine.
The seven student-trainers piloting the new program are exercise physiology majors Kayla Penrod, Nate Dean, Carly Presti, Chase Luckett, AJ Marks, Cole McKinney and Elisha Schick. While the idea of changing to an all-virtual format took some getting used to, they have found that the increased flexibility has afforded them some new opportunities that didn't exist before.
"It's a unique experience that I don't want to waste," says Luckett. "I'm excited for it because we have the opportunity to spread health and fitness information and we are trying to go with a holistic approach as to encompass all sides of a healthy lifestyle, physically and mentally. It's also a project that is able to be taken in any direction we want so we get to show our personalities with it and have fun."
The project also demonstrates the unwavering commitment that the exercise physiology program, and the University as a whole, has to providing quality experiential learning for its students even amid the challenges of COVID-19 and social distancing.
EVER SINCE I CHANGED MY MAJOR TO EXERCISE PHYSIOLOGY, I WAS LOOKING FORWARD TO THIS CLASS BECAUSE I KNEW IT WAS GOING TO BE ALL HANDS-ON," SAYS PRESTI. "WITH EVERYTHING CHANGING, I WAS KIND OF NERVOUS THAT I WOULDN'T GET THE SAME EXPERIENCE WITH IT BEING VIRTUAL. I AM SO THANKFUL THAT THE EXERCISE PHYSIOLOGY PROGRAM WAS ABLE TO ADAPT AND MAKE IT SO WE DIDN'T MISS OUT AND STILL GET TO BENEFIT THE ONU COMMUNITY."
Of course, one of the most rewarding benefits of the Next Step-You project is that it gives student-trainers experience in one of the new directions of the fitness industry – online e-fitness content and products. With the introduction of online e-fitness platforms and devices, such as The Daily Burn, iBody Fit, The Mirror, Peloton and Tonal, e-fitness has been gaining traction and popularity in recent years, and with the onset of the pandemic, the industry is more in-demand than ever before.
"Being able to say that they've been involved in one of the growth areas of the fitness industry adds great marketability to their resume," says Potkanowicz. "And while the technology that the group is using isn't necessarily cutting edge, I believe strongly that the more comfortable a student is with technology, of any kind, the more professionally marketable they are. When a student brings a familiarity with technology with them to the workplace, it's a win for them and a win for their employer."
ONU faculty, staff and students can access the Next Step-You portal here, where you can view all current and past training videos.