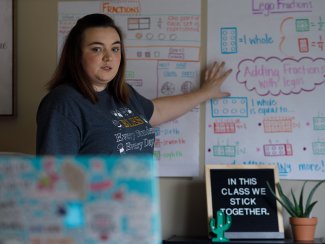 ONU education alumna helps her students adapt to online learning in the midst of COVID-19
March 12 was like any other school day at Benjamin Logan Elementary School for fourth-grade teacher Emily Wilson, BA '19, but by the end of the day, she had spent her last "normal" day with her students for, possibly, the rest of the school year.
That was the day Governor Mike DeWine, JD '72, mandated that Ohio's K-12 schools would close for three weeks due to the COVID-19 pandemic. Since then, the shutdown has been extended until May 1, and the future remains uncertain. The abrupt disruption sent teachers across the state scrambling to find ways to keep their students engaged and learning from afar.
"My initial response was a bit of relief – that we would be getting some time away that would allow us all to stay healthy. That is one of my biggest concerns as a teacher – making sure my students are healthy and happy," Wilson says. "Shortly after that feeling of relief came worry and fear that students would not take to the distance learning model and we wouldn't have meaningful learning that would stick with the students."
As a first-year teacher, Wilson still had many of the techniques she'd learned at Ohio Northern University fresh in her mind, such as different kinds of technology she could use to make learning more interactive. Using Google Classroom and Youtube, she conducts video lessons and creates fun activities for students to do virtually, such as scavenger hunts and interactive slide shows. She's also experimented with new things like a web-based quiz game. But perhaps her favorite is the Zoom video chats that she and her team teachers host with all the students each week.
I CANNOT BEGIN TO FATHOM A WORD FOR HOW HAPPY I WAS TO SEE MY KIDS' FACES AND HEAR THEIR VOICES," SHE SAYS. "THEY WERE SUPER EXCITED TOO, WHICH MADE IT EVEN BETTER. MY HEART WAS MUCH HAPPIER AFTER THE HOUR I SPENT WITH THEM, EVEN THOUGH IT WASN'T FACE TO FACE."
Wilson's outside-the-box ideas have also helped students maintain a sense of normalcy during a time when everything is changing daily. Although students are not physically going to school every day, that has not stopped many of them from staying in a "normal" school routine – or at least as close to normal as possible.
"One of the biggest surprises to me is how motivated the students are to try some of the things online," she says. "I have quite a few students who I can almost expect to see on Google Classroom when I wake up each morning. They are on and working hard, just like they would at school. I'm also surprised about how routine this has all become. Waking up and teaching from a corner in my living room is NEVER how I expected my teaching career to start. I mean, what a story to tell in the future!"
Wilson's efforts have made a big difference for parents, too. While many parents have had to step into a new sort of "homeschooling" role, maintaining a work-life balance has been harder than ever. Keeping their children engaged in learning is an extra responsibility, but one that's made easier by the "routine" set forth by Wilson.
"I truly appreciate the patience and care teachers like Emily Wilson bring to their students throughout the year and especially now," says Hayley Stratton, whose son Owen is one of Wilson's students. "He is excited to interact with his teacher and classmates online. He always learns something new and is able to get the answers he needs to finish assignments. I'm sure it's been hard for [Wilson] to adjust to these recent changes, just like all of us, but she appears unflappable and energized to teach the kids where they are. She has really helped our family navigate to a new classroom normal."
Wilson eagerly awaits the day she can walk back into her classroom and see her students face to face once again, but until then, she will keep doing whatever it takes to deliver the highest quality education she can.
THE KIDS KEEP ME MOTIVATED TO GET UP AND TRY OUT SOMETHING NEW. IF IT FLOPS, THEN IT FLOPS AND WE LEARN TOGETHER," SHE SAYS. "I WANT THIS TO BE THE BEST EXPERIENCE FOR THEM EVEN THOUGH THIS IS A NEW SITUATION FOR ALL OF US."