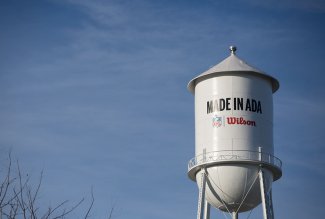 A demonstration of how NFL footballs are produced and an exhibit from the home of professional football are among new features that have been added to the Made in Ada Football Festival, which will be held Aug. 24. Among new highlights that promise to be fan favorites are the "Wilson Experience," which demonstrates the process of how footballs are made and an exhibit by the NFL Pro Football Hall of Fame.
Among other highlights are pre-season football scrimmages featuring the Ada High School and Ohio Northern University football teams and marching bands, as well as a performance by the band "Nashville Crush." In addition, raffle tickets will be sold throughout the day to win commemorative Wilson footballs.
The event begins with the Wilson Football Factory garage sale at 8 a.m. and concludes with the traditional football drop at 10 p.m. in the Ada Depot Park. It includes an array of activities throughout the day that are designed to appeal to football fans of all levels of interest.
The festival celebrates Ada's contribution to the gridiron sport, as all footballs used in the National Football League are made in Ada's Wilson Football Factory. The event is sponsored by the Ada Area Chamber of Commerce.
Following is a schedule of events:
8 a.m. to noon. Wilson Football Factory garage sale, 217 Liberty St.
Pre-Season Kickoff Classic Scrimmage, ONU Dial-Roberson Stadium
"Wilson Experience" museum exhibit
9:30 a.m. Ada High School Marching Band performs
10 a.m. Ada High School vs. Perry High School
Noon. ONU Marching Band performs
12:30 p.m. ONU vs. Trine University
4 p.m. to 10 p.m. Made in Ada Football Festival, Ada Depot Park
Sale of raffle tickets for commemorative footballs and a smoker
Watch footballs being made at the "Wilson Experience" exhibit
Pro Football Hall of Fame exhibit
Tailgating area featuring games and raffles  
5 p.m. Presentation on football design and technology by Wilson engineers
7 p.m. to 10 p.m. Nashville Crush performs
10 p.m. Wilson football drop
Sponsors include: Liberty National Bank, Lewis Family McDonald's, Quest Federal Credit Union, Century 21 Sunway Realty, Hardin County Chamber and Business Alliance, Hardin Memorial Health, Bluffton Hospital, Kiwanis Club of Ada, Beam Suntory, Ada Area Chamber of Commerce, Pro Football Hall of fame, Village of Ada, Ohio Northern University, Wilson, Tavern 101, William H. Bass Trucking Inc., Interim Healthcare Hospice of Lima, Ream McElroy VFW Post 9381, The Rogers Agency, The Inn at Ohio Northern University, Hanson-Neely Funeral Home, Mid-Ohio Energy Cooperative Inc., Vancrest of Ada, US Bank, Auburgey Construction Company, Viva Maria, NASG Ohio LLC, VanDyne Law Office, Peter Previte, Attorney at Law; Jalapenos Mexican Grill, The Mercantile on Main.