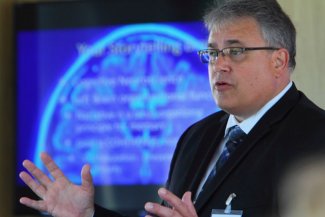 Following a national search, Charles H. Rose III has been named dean of the Pettit College of Law at Ohio Northern University, effective July 1. Rose is currently professor of law and director of the Center for Excellence in Advocacy at Stetson University's College of Law in Gulfport, Fla. Stetson University College of Law has been ranked the No. 1 school for trial advocacy 21 times by U.S. News & World Report, most recently in its 2020 rankings. Rose has served as the director since 2008.
Prior to joining the Stetson faculty in 2005, Rose spent 20 years on active duty in the Army. He served as a linguist, intelligence officer and judge advocate. He prosecuted and defended criminal cases for more than five years and served as a criminal law professor at the Judge Advocate General's School of U.S. Army in Charlottesville, Va. He also served as an adjunct professor at the Notre Dame Law School.
His primary scholarly interest focuses on advocacy persuasion techniques, and he is an internationally recognized expert in that area. He teaches and researches in the areas of advocacy, criminal procedure, military law, evidence and professional ethics. Rose's published work includes numerous law review articles, two casebooks on trial advocacy, and legal treatises on military criminal law and evidentiary law.
Rose earned his bachelor's degree from Indiana University at South Bend and his JD from the University of Notre Dame Law School. He also earned an LLM from the Judge Advocate General's School, United States Army.
He replaces David Crago, who has served as interim dean since 2017 and will return to the ONU College of Law faculty.
"Professor Rose has a rich background in the law, as a scholar, administrator and practitioner. I am confident he has ideal credentials to continue to provide strong leadership to the ONU College of Law," ONU President Daniel DiBiasio said. "We look forward to having him join the College of Law as well as Ohio Northern University and adding to the sense of a supportive, challenging academic community that defines both the University and the College of Law. I would also like to acknowledge ONU Provost and Vice President for Academic Affairs Maria Cronley, who provided strong leadership in the search process."
Cronley, who chaired the search committee, said, "I am confident that Dr. Rose has the necessary experience, leadership qualities and personal attributes for this position. Ohio Northern is committed to offering our law students exceptional educational and co-curricular experiences that will prepare them for rewarding careers as attorneys as well as developing individuals who pursue lives of impact in their communities. It is clear that Dr. Rose shares this commitment."
Rose said, "I am excited and humbled to join the vibrant ONU academic community. I look forward to working with the ONU Law faculty and staff as together we pay forward the unique heritage of the ONU College of Law, creating practice-ready lawyers and leaders for the 21st century."
Founded in 1885, the Ohio Northern University Pettit College of Law is the second oldest of nine Ohio law schools. ONU Law offers comprehensive and guaranteed options for practical skills training. U.S. News & World Report has recognized ONU Law as one of the top-tier American law schools and recognized the institution for several programs and specialties. With one of the lowest student-to-faculty ratios in the country, ONU Law ensures students a personalized legal education.