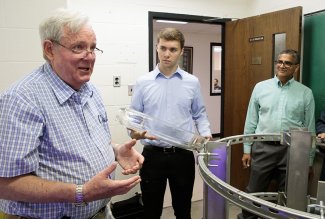 Ohio Northern University's pioneering heritage, enterprising spirit and promising future converge with the naming of the University's newest building: the James Lehr Kennedy Engineering Building. The first classes are scheduled to be held in fall 2019 in this innovative facility, which is currently under construction.
The great-grandson of ONU founder Henry Solomon Lehr, Kennedy grew up in Massachusetts, but he spent every summer during his childhood visiting his grandmother, Sarah Kennedy (the daughter of Lehr), and aunt, Mary Kennedy (the granddaughter of Lehr), who lived in Ada. He has since built a successful career as an entrepreneur, inventor and artist.
The naming of the building honors Kennedy's service and contributions to ONU. Beyond serving the University as a member of its Board of Trustees, he has made an irrevocable estate pledge gift of $10 million to Ohio Northern.
"We are tremendously excited that the new location for the College of Engineering will bear the name of the person who is the great-grandson of our University's founder as well as an innovator and entrepreneur in his own right," ONU President Daniel DiBiasio said. "We are also grateful to Jim for this generous gift. When realized, the bulk of funds will provide unrestricted dollars for the University to maximize opportunities and respond to its greatest needs. In addition, the gift will establish a professorship and fund scholarships."
Kennedy's service to the University spans decades, and he received an honorary doctorate from ONU in 2017. He currently mentors the senior engineering design students who are building the base and lighting system for an 18-foot glass sculpture he created that will be displayed in the atrium of the new engineering building.
"Jim inspires us through his leadership," said Shannon Spencer, vice president for university advancement. "He remains constant and committed to the best interests of our students and the future of ONU."
The total cost of the engineering building is approximately $30 million. The endeavor is the result of a successful fundraising campaign that exceeded its goal of $15 million and a United States Department of Agriculture (USDA) construction loan.
Construction of the engineering building began in spring 2018. The 105,000-square-foot facility will be nearly twice the size of the current 55,000-square-foot Biggs Engineering Building and will feature space for collaboration, class projects and community-building. This forward-thinking approach will allow ONU to remain on the cutting edge of educating engineers who make a difference in the profession.
The new facility will be able to accommodate 600 students and will include more than 10,000 square feet of large-scale project and design space for capstone projects, competitive design projects and other direct industry engagement.
Further, it will provide flexible space that can be adjusted to various projects and will feature more than 2,000 square feet for research labs that can exist on their own or be combined into larger spaces.
With more than 6,000 square feet of formal and informal collaborative spaces for homework, group projects or hanging out, students can meet in or out of class, building the teamwork skills that employers value.