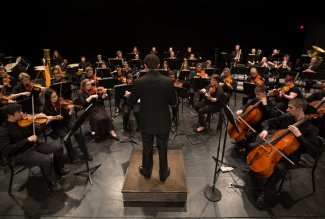 The Ohio Northern University Department of Music presents the Ohio Northern Symphony performing "Beethoven and Beyond" in the Freed Center for the Performing Arts on Sunday, Feb. 21, at 5 p.m.
Under the direction of Travis Jürgens, ONU music director, the Ohio Northern Symphony will open with Mendelssohn's "Hebrides Overture," followed by a 21st-century work by Emmy Award-winning composer Steve Heitzeg titled "Winter: Ghosts of the Grasslands." This particular piece includes guitar and unusual percussion instruments. Heitzeg is recognized for his orchestral, choral and chamber music written in celebration of the natural world, with evocative and lyrical scores frequently including naturally found instruments such as stones, manatee and beluga whale bones, and sea shells. An advocate for the "peaceful coexistence of all species through music," Heitzeg has written more than 150 works, including compositions for orchestra, chorus, chamber ensemble, ballet and PBS films. 
The next work will feature a winner of the concerto competition performing Eric Sammut's "Sugaria: Concerto for Marimba and Orchestra." The competition's winner, Chang Tong, an ONU senior music performance major studying percussion performance from Beijing, China, also has won the ONU International Talent Award, ONU International Scholarship, the Dr. Bruce Burton International Student Involvement Award, and the Agnes Fowler Ohio Collegiate Scholarship for Outstanding Music Performance.
After intermission, the orchestra will perform Beethoven's humorous and spirited "Symphony No. 1 in C major."
Tickets for this Freed Center performance are $20 for general admission, $15 for seniors, $5 for students, and $10 for ONU faculty and staff. The Freed Center box office is open Monday through Friday from noon to 5 p.m., and Saturday from 10 a.m. to 2 p.m. Phone orders are accepted with American Express, MasterCard, VISA or Discover by calling 419-772-1900. Tickets also are available online at ticketing.onu.edu.