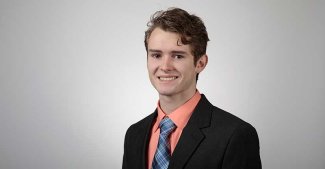 Engineering student turns an unexpected change of plans into a high-impact learning opportunity in entrepreneurship  
When junior electrical engineering major Nathan Clark first learned that his summer internship at AEP had been canceled due to COVID-19, his first reaction was, "What am I going to do now?" Not willing to sit on the sidelines all summer, he decided to create his own experiential learning project in the form of an entrepreneurial venture – building and selling his own custom airsoft electronics.
Ever since the seventh grade, Clark has been fascinated with airsoft, the competitive team shooting sport similar to paintball, but without the mess. As its name implies, airsoft is played with guns that use air to fire soft, plastic projectiles. In addition to being a popular pastime, airsoft is also used by law enforcement and federal agencies in training exercises. But unlike his friends, who reveled in gameplay, Clark's interest always gravitated toward the highly modifiable airsoft guns.
I GOT REALLY INTO TAKING THEM APART, REBUILDING THEM, BUILDING THEM FROM SCRATCH AND ALL SORTS OF STUFF LIKE THAT," HE SAYS. "I MOSTLY JUST LIKED BUILDING THE GUNS, AND I LIKED UPGRADING THEM, SO I HAD A LOT OF AIRSOFT GUNS. FOR A LONG TIME THAT WAS A BIG HOBBY, AND I GOT REALLY FAMILIAR WITH THE SYSTEM."
Years later – with lots of extra time on his hands and a yearning to learn something new – he decided to take up his old hobby again. But this time around, he had more specialized knowledge in electronics and he knew a thing or two about niche markets.
Straight from the manufacturer, the stock parts included in an airsoft gun are pretty basic and not very durable. For those serious about airsoft, modifying and upgrading their equipment is a must to remain competitive. One of the most common modifications is called a mosfet, which is basically an electrically controlled trigger switch. Applying a mosfet protects the trigger mechanism by diverting electrical current from the battery to the motor.
Avid airsofters, however, often want more than just a basic mosfet. Two of the more commonly desired extra features are active-braking, which makes the gun feel more realistic when firing, and the ability to shoot in auto or semi-automatic "bursts." These two features are normally only available through purchase of an expensive control unit or external programming chip, which can cost upwards of $200 or more.
It was between the low-cost mosfet and the high-cost control unit that Clark saw a gap in the market for a moderate-cost alternative. So, he came up with what he calls the "burst-fet."
"Basically, what a burst-fet does is it adds a burst feature, which allows you to shoot multiple shots with one trigger pull based on how the timer is set," he says. "There are products that have a ton of features, but I wanted to make something to keep my costs down and keep a product that people would want."
Over the summer, he designed, assembled and tested a small array of products – mosfets, burst-fets and a few other miscellaneous items. He ordered parts from suppliers, designed circuit boards and soldered wires. He did trial-and-error testing and made adjustments along the way. Basically, he was a one-person factory.
He'd completed step one – developing a product ready to sell – but now, he had to market that product. And that's where he drew upon his entrepreneurial skills.
First, he had to build a website to direct customers to his business, Trigger Electronics. He coded the website by hand in Notepad, including information on each of his products and videos he had created to demonstrate how they work. He also included links to his Ebay listings, where customers could purchase his products.
Airsoft is a very popular sport in Europe, so Clark wasn't surprised when Trigger Electronics received a lot of international interest. Unfortunately, he couldn't sell any of his products internationally on Ebay due to how the products are categorized, so he instead turned his efforts to finding large suppliers to sell to.
"I've contacted a couple distributors that sell airsoft products just to say, 'Hey, I have international interest in these. I don't want to deal with shipping them all out individually,'" he says. "And I've gotten some interest. I'm currently emailing with them right now. I'm trying to come to an agreement so I can sell some of my parts on their website."
Clark is a classic example of how ONU students embody the entrepreneurial mindset. Using foundational knowledge gained in courses like Intro to Engineering and Maker Engineering, he built upon those skills by experimenting in more advanced ways. Also, having participated in the Polar Pitch elevator pitch competition multiple times, he knew the basics of how to market a product to a target audience.
He plans to keep Trigger Electronics going through the school year, with ideas for new designs, features and enhancements he may work on with some of his professors. The experience also led to a new passion he hopes to integrate into his future career.
AFTER DOING THIS, I REALLY LIKE DOING PRODUCT DESIGN," HE SAYS. "I LIKE DESIGNING SOMETHING, AND I LIKE SEEING IT, I LIKE BUILDING IT, I LIKE SEEING IT WORK. I LIKE DOING ALL THE RESEARCH, SPENDING HOURS LOOKING AT DATA SHEETS OF ALL THE DIFFERENT SPECIFICATIONS, PHYSICAL COMPONENTS, TRYING TO PICK THE BEST ONE. SO DEFINITELY, SOMETHING IN CIRCUIT BOARD DESIGN, PRODUCT DESIGN IS WHERE I WANT TO BE."
Looking back, he's thankful that his summer didn't turn out quite like he planned. He may have missed out on an internship opportunity, but his self-made, high-impact learning experience in entrepreneurship was certainly a worthy alternative.
To learn more about Trigger Electronics and the products offered, visit triggerelectronics.com.