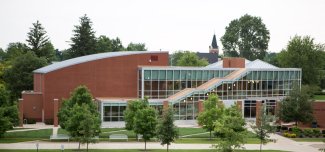 Michael Prescott, president of U.S. Bank's Cincinnati market, will deliver the Carroll V. Lovett Distinguished Lecture at 7 p.m. on March 28 in the forum of Ohio Northern University's James F. Dicke Hall. The title of his talk is "What I didn't learn from textbooks."
The talk is free and open to the public.
Prescott, who earned a bachelor's degree with high distinction in accounting from Ohio Northern in 1984, is responsible for the bank's activities and commercial-lending efforts in the Cincinnati region. He also has market responsibility for Florida; North Carolina; Nashville, Tenn.; Louisville, Ky.; and Saint Louis, Mo.
Previously, Prescott served as executive director of the Ohio Tuition Trust Authority, where he was responsible for all aspects of Ohio's 529 plan. Before that, he was a member of Huntington Bank's executive team.
He is currently a member of the board for 3CDC, the Cincinnati Business Committee, United Way, ArtsWave, the Cincinnati Chamber of Commerce, and the Medical Center Fund of Cincinnati. He also is a member of the board of managers for the Cincinnati New Markets Fund.
Prescott also earned an MBA, with a focus on finance and marketing, from Ohio State University.
"We are very lucky to have such accomplished alumni like Mr. Prescott who are willing to share their insights and experiences with the ONU community," said John C. Navin, Ph.D., dean of the Dicke College of Business Administration. "Our students truly appreciate the opportunity to learn from Mike's personal and professional experiences. I greatly appreciate Mike taking time to return to campus. This type of interaction underscores the high-impact learning experience that defines the college's educational experience."
The Carroll V. Lovett Distinguished Lecture Series was established by a bequest of Florence V. Lovett in honor of her son, Carroll Lovett, a 1961 graduate of Ohio Northern's business program and a retired executive with Xerox Corporation.
After completing an associate degree at another university, Lovett earned his bachelor's degree at Ohio Northern. He was drawn to ONU largely because of the University's smaller, personable setting, and Lovett formed several lasting friendships during his college days.
After graduating, Lovett embarked on a career in fire-loss prevention, working for The Travelers Insurance Company and Aetna Life and Casualty. He then spent 25 years working for Xerox Corporation in Stamford, Conn., where Lovett was responsible for fire-safety engineering for all Xerox facilities.
Lovett was also active on the boards and technical committees of the National Fire Protection Association. He retired from Xerox in 1994.