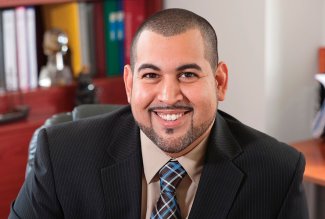 Michael Benitez will be the keynote speaker for the annual Dr. Martin Luther King Jr. Celebration at 7 p.m. on Jan. 22 in the English Chapel at Ohio Northern University. The event is free and open to the public.
The theme of this year's talk is "The time is always now: Upholding legacies of diversity leadership in 21st century America."
Benitez is currently dean of diversity and inclusion/chief diversity officer and Title IX officer at the University of Puget Sound. He has previously served as director of intercultural development and the Black Cultural Center at Lafayette College, an adjunct faculty member in leadership and professional advancement at Duquesne University, and director of intercultural engagement and leadership at Grinnell College. He has established the diversity monologues, a program that highlights the creative talents of students while addressing diversity and social issues, which has been implemented at several institutions.
He holds a doctoral degree in educational leadership and policy from Iowa State University and has been recognized with several leadership and scholarly awards during his career.
King spoke at ONU more than 50 years ago, on Jan. 11, 1968. It was one of the last speeches he gave at a college or university. He was assassinated in Memphis, Tenn., on April 4, 1968.