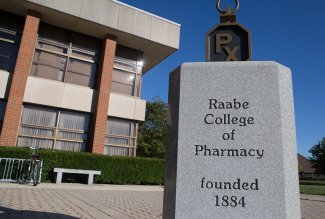 A life dedicated to service continues with the establishment of the Marvin E. Barnhart Endowed Pharmacy Scholarship at the Raabe College of Pharmacy at Ohio Northern University.
The scholarship fund, endowed by Marvin E. "Barney" Barnhart of Oakwood, Ohio, will provide financial assistance to deserving future students, so that they might receive the same high-quality educational experiences that launched Barnhart's professional career.
Awards of $1,000 will be made to a student during both the 2018-19 and 2019-20 academic years, with the remaining amount of the gift being used to fund an endowment involving a two-year pledge to provide initial funding for the scholarship. Additionally, in conjunction with joining Ohio Northern's Heritage Club, Barnhart has established a generous planned gift via bequest that will increase the student impact of the scholarship in the future. 
"This endowed scholarship fund will provide much-needed support for deserving pharmacy students and continues the University's tradition of preparing the next generation of community pharmacy professionals and leaders," ONU President Daniel DiBiasio said. "It also continues Marvin Barnhart's commitment to service, which is an inspiration to us all."
Barnhart grew up in North Hampton, Ohio, a small village in Clark County. He was a standout high school athlete at North Hampton High School, playing as pitcher on the baseball team and guard on the basketball team.
Following graduation, Barnhart attended Manchester (Ind.) College. After earning a bachelor's degree, he served four years in the U.S. Air Force, spending most of his time as a medic in Panama. After serving his country, Barnhart then used the GI Bill to attend Ohio Northern so he could continue to serve others as a pharmacist.
After graduation from ONU, Barnhart worked as a pharmacist for a short time at a hospital in Lima, Ohio, before relocating to Oakwood to be closer to his home. He then spent his career with Fidelity Pharmacy, an independent operation with seven stores in the Dayton area, serving as manager of the Oakwood Pharmacy for more than 20 years.
He currently resides in Centerville, Ohio.