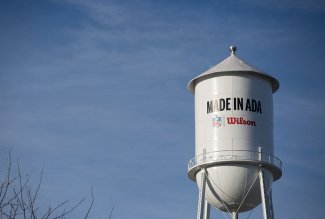 Ada's now-famous football drop is moving, but all the fun from the event continues.
Previously held on Super Bowl Eve, this year's Made in Ada Football Festival moves to Aug. 25 in downtown Ada, according to Ada Area Chamber of Commerce.
The festival celebrates Ada's remarkable contribution to the sport of football, as all footballs used in the National Football League are made in Ada's Wilson Football Factory.
Hosting the event at this time of the year makes sense for several reasons and should add to the vitality of the occasion. Because the football season kicks off in late August, the new date captures that spirit for fans of all levels of football, from junior leagues through the NFL.
Further, hosting the event in late August should provide better weather conditions for outside activities.
Additionally, Wilson Football Factory will be able to become more engaged with the festival, because the pre-Super Bowl event in February conflicted with Wilson's obligations at the site of the championship game.
For example, as a major addition to the festival, people can watch footballs being made. The steps involve sewing, turning, lacing and inflating the balls.
Several events are still in the planning stages, and a detailed schedule will be released once it is final. Activities will begin with an ONU intrasquad football game, tailgating setup in Depot Park at 11 a.m., opening ceremonies at noon, and the ball drop at 10 p.m. to conclude activities. There will be events throughout the day for football fans of all ages and interests.
In this way, the spirit of the two previous football festivals is continued with the opportunity for some new features in a family-friendly environment.