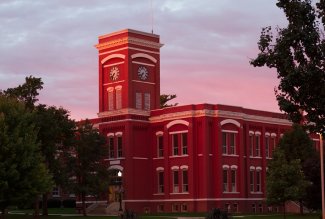 Kelley Lewis of Bellefontaine, Ohio, has received the 2018 Catherine Freed Outstanding Senior Female Leadership and Service Award from Ohio Northern University. Lewis, who attended Bellefontaine High School, graduated from ONU this spring with a bachelor's degree in literature and creative writing.
During her college career, Lewis made a lasting impact on the campus and beyond through her service and leadership activities and earned a DeBow Freed Award for Outstanding Student Leadership. Lewis served as the chair of ONU's first two Out of the Darkness Walks, with the events raising a combined $11,000 for the American Foundation for Suicide Prevention. She also helped new students transition to college life while serving as a Good News Bear during freshman summer orientations and then rising to the position of freshman orientation student coordinator.
Lewis also was alumnae and foundation liaison of Kappa Alpha Theta sorority and president of the ONU chapter of the Sigma Tau Delta English honorary society.
Further, she was editor-in-chief of Polaris literary magazine and has presented her work at conferences. Lewis presented "'Unsex Me Here': The Collision of Gender and the Struggle for Power in Macbeth" at the Ohio Valley Shakespeare Conference. She presented her creative nonfiction "The Art of Losing: The Journey of a Loss of a Parent to Cancer" at the Sigma Tau Delta International Conference in Louisville, Ky.
Her life of servant leadership will continue in Lewis' career. She will enter the Methodist Theological Seminary in Delaware, Ohio, this fall to become a pastor. Lewis is currently a part-time pastor at Claibourne United Methodist Church in Richwood Ohio, has completed an internship with Central City Church as the Connections Intern in Grandview, Ohio, and has worked for Central Avenue Church with the West Ohio Next Generation Leaders.
The award is named for the late Catherine Freed, the former first lady of ONU who led a life of service to others. The annual award recognizes a fourth- or fifth-year woman who has shown extraordinary leadership and service throughout her time at Ohio Northern. The first award was presented in 1998.