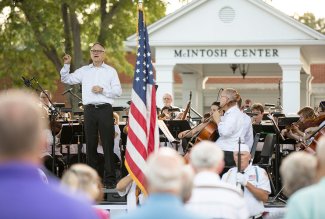 The Lima Symphony Orchestra will celebrate Independence Day with its fourth annual Patriotic Pops Concert at 7 p.m. on June 30 at Ohio Northern University. The concert, which is free and open to the public, will be held on the sculpture mall east of McIntosh Center between Presser and Weber halls.
In case of inclement weather, the event will be held in the ONU Field House.
This fun-filled family event will feature patriotic music, movie musical selections, popular tunes and a tribute to our armed forces. Attendees are encouraged to arrive early and bring lawn chairs, blankets and favorite picnic foods.
Special guest performers include Kirsten Osbun-Manley, ONU resident artist in music and musical theatre program director, as well as the Noteworthy Community Choir, under the direction of Vicki Mills, ONU adjunct music instructor.
Event sponsors include Quest Federal Credit Union, Robinson Fin and the Little Chicago Room, the village of Ada, Ada Area Chamber of Commerce, Ada Family Dentistry, Allan Nott Honda Toyota, Cole Motor Sales Inc., Fresh Encounter Inc., Hanson-Neely Funeral Home, Hardin County Chamber and Business Alliance, Home Savings and Loan Company, Liberty National Bank, ONU Residence Life/Career Services, Rogers Nationwide Insurance Agency, Vancrest Health Care Centers, Vancrest of Ada, Ada Kiwanis, Ada Rotary Club, Carol Slane Florist, Don and Connie Fleming, and Bud and Barb Winzenried.