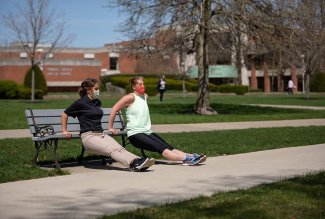 (This article is the third and final in a three-part series about an Ohio Northern University student and staffer team's journey through the Spring 2021 semester Next Step-You fitness program. The first story is available here and the second one here).
I chose a sunny Friday to complete my 1.5-mile final assessment run. "The Green Monster," Ohio Northern University's paved trail, served as the site for this timed test. The goal was to put one foot in front of the other faster than I had during my initial assessment for the Next Step-You faculty-staff fitness program offered by exercise physiology students. Did I succeed or did the monster conquer me? One and a half miles isn't much, but if you're not used to running, it can feel like an excruciating eternity. Had my recent physical and mental efforts prepared me well enough to prevail?
Before I answer that question, I need to emphasize that my student trainer Samantha Hurlburt and I have had quite a seven-week ride. We started the program a few weeks later than other program participants, but we hit the ground running, literally and figuratively. For me, the adventure has been nothing short of transformative and galvanizing. As I've pounded the pavement, heaved weights over my head, flung myself into the air, pulled, pushed, sweated and griped, it seems that something, in the form of a different mindset, has begun to take shape in ways I've not previously experienced. Some of my routines have been disrupted, maybe permanently and for the better. Rather than simply focusing on exercising, which is only one part of the whole wellness equation, I've developed a research-based and individualized approach to wellness as a whole, thanks in large part to Sam's instruction and interrogation. The changes are already significantly serving me.
Workouts are now part of my daily life. Even though the virtual Next Step-You program has concluded, my fitness journey will continue. Sam has kindly developed a summer schedule for me that involves weight lifting and cardio. I'm incorporating more whole foods, particularly plants, into my meals. I'm also questioning where my food comes from, how it's produced and what sort of nutritional value it can or can't offer me. My health-focused outlook has even become more comprehensive and attuned to global matters such as environmental sustainability and ethics. I'm hopeful that a significant portion of what I've learned and realized sticks with me for the long haul.
But how did we actually do this semester? Let's talk specifics and program outcomes.
My musings:
• I ran the final 1.5 miles in 15.57 minutes. While still downright slow by running standards, this was faster than the 17-minute goal Sam and I had set and well under the 18 minutes it took me to slog through that distance the first time around. I've become a faster runner.
• I completed 30 traditional push-ups for the final assessment, far better than the 15 modified versions I initially eked out. I've gained muscle strength.
• I lost seven pounds (and counting). Although my goal was more basic—to have my clothes fit better—the pounds lost were those that were gained during my sedentary pandemic unemployment period last year. Some of my pants are now too big to wear. So, a bit less flabby and not too shabby for a very busy single parent who commutes to work and is an admitted chocoholic.
• As mentioned above, I'm eating more mindfully. Things like carbohydrates, protein and calories are being scrutinized, as is food origination, growth and handling.
• I'm questioning and experimenting with my food choices. Did the eggs I just bought come from a factory operation that keeps chickens caged and immobile their entire lives or from a farm where the hens roam outside? Were the birds simply given the free-range opportunity (that they may or may not have exercised) or did they truly spend most of their lives in a field? What did those cluckers eat (which, in turn, is what I will eat if I consume their eggs)? How does quinoa taste? If I'm going to keep eating meat, where can I buy products that I know came from animals that were humanely raised and processed? Were any chemicals used to grow those veggies? As renowned food author and journalist Michael Pollan asserts, we all contend with consumption compromises. I'm finding this to be very true as I sink deeper into my own "omnivore's dilemma."
• Critical thinking from an inward perspective has become an essential component of my lifelong wellness quest, thanks to Sam. For instance, part of my bespoke fitness regimen included journaling about how certain activities made me feel. So, I started taking note of how I felt after eating a big bowl of chili or a small bowl of old-fashioned overnight oats. Was I too full? How long did I feel full? Did that nourishment keep me energized for an upcoming workout or literally weigh me down? Did those weights challenge me enough? Could I have run farther?
• Participating in Next Step-You reinforced my assertion that good health cannot be taken for granted, and should always be prioritized and nurtured. My father, who had multiple sclerosis, died at age 55 and my father-in-law died from prostate cancer. When you witness the ravages of diseases such as these, you realize how the simple ability to put one foot in front of the other, no matter if we're walking or running, is, in many ways, a miracle and an immense privilege. This awareness and gratitude helped me persevere on that Green Monster run that sunny Friday.
Sam, my knowledgeable, patient and personable guide through all this, is graduating this May. Although I'm sad to see her go, I know she'll be successful in whatever she chooses to pursue, professionally and otherwise. How does she feel about how the program went and is she ready to become an ONU alumna?
One more Q&A with Sam:
Q: In terms of Next Step-You's virtual nature this semester, what have been some positives of that setup and what have been some of the challenges with virtual?
A: I like that it has been so flexible. Neither of us ended up in quarantine, but virtual would have been useful if that scenario had happened. I like that we can really take the time to be there and I like that you know I am accessible to you. A lot of online programs don't have the quality and quantity of sessions to have such an impact on our health. I appreciated that we had a consistent schedule with it. A challenge has been not seeing your form during movements and finding resources that are accurate and helpful while still being short and sweet.
Q: What were your student-trainer goals at the outset of this semester's program?
A: My biggest goal was to make you feel heard and motivated throughout the semester. Exercise is challenging and it can be tedious to always have that intrinsic motivation. I hope that I have pushed you to be your best self, and I hope that I inspire others to always keep trying!
Q: Do you think we met the goals we both aimed to accomplish?
A: One hundred percent. I think that not only did we reach these goals, we made even more progress and accomplishments than I thought we could in our short time together. You not only have worked on your healthy eating habits, but have become a more conscious consumer. I think that the spark for your health journey has opened many doors that will have profound benefits for the rest of your life. 
Q: How have you adapted your own exercise routines and objectives during the pandemic?
A: At the beginning of the pandemic, it was really hard to adjust. It was hard for a lot of reasons and the gyms shutting down was upsetting but understandable. I was 10 weeks into a 5-day split lifting program for overall strength (I was dead-set on getting a deadlift above 205 pounds). I only had two weeks left in the program when gyms shut down. I modified to do a lot of bodyweight exercises and my friend and I started training for a half marathon (it became virtual and we decided we would try again when it was in-person). I was able to run up to 8.5 miles in a row before gyms opened back up and I went back to weight training more than running. Overall, it was good to improve on running and I wouldn't have been able to do that if we were still at school and super busy. I currently go to a gym off campus and sometimes King-Horn Sports Center, but I try to avoid other people (even with masks, gyms are very germy and can be a huge source of microbes). My objective changed to taking care of myself and it provides an escape from my hard classes, caring for Covid-19 patients at work (via a part-time job at St. Rita's Medical Center in Lima, Ohio) and managing being a young adult. 
Q: What has the pandemic taught you about exercise? Did you come to any realizations that you may not have had without the pandemic happening?
A: I never would have imagined myself running that much or using heavy books as at-home weights. I think the pandemic made exercisers get creative. Milk jugs? Sure! An old and stretched out band from the 90's to mimic a latissimus pulldown or rows? Why not! I remembered that going outside makes you sweat, that you don't have to be in a traditional gym to workout. 
Q: What was one of your favorite exercise physiology projects?
A: I have three! One year, we had to design an entire fitness facility and program to make a worksite health program. It really allowed us to use our knowledge of exercise and how to execute it for a large group of people in a practical way. In another class we picked a sport and wrote a training program for the off-season athlete. We considered what the sport was, what the season goals were and any injuries they had. It was a long project but it allowed us as students to demonstrate that we really know how to train someone and the reasoning behind each movement. Lastly, we did some really fun labs on testing our VO2 max on exercise equipment. Testing our strength, endurance, and overall health allowed us to genuinely understand how our clients/patients/athletes will feel doing those exercises and what specifically they tell us about their health. 
Q: What was one of your favorite courses?
A: I really liked Exercise Pathophysiology and Testing and Prescription I and II.
Q: As an exercise devotee yourself, what are some of your favorite tech tools/apps?
A: I am a classic, carry-around-a-notebook type of gal, but storing my favorite workouts on my Notes app always helps in a pinch. I also LOVE my Apple watch; it syncs to my phone, plays my embarrassing music and records my pace pretty accurately. Before the watch, I used the app TrackMyRun. For macronutrient calculators, I really like Macros (it has an apple picture in the app tile) but I know lots of people like MyFitnessPal too. There is a lot of up-and-coming tech in the field of exercise and I cannot wait to see where it goes so that the home workout-goer can get feedback too and encouragement to keep going. 
Q: What are some great food items to partake in before and after workouts for energy and recovery? 
A: I think it really depends on preference. Normally, most people respond well to a small serving of carbohydrates like a fruit.  I like to eat a meal first and then workout 2-3 hours later, then have a workout snack that has protein, carbs and fat. I'm not the biggest fan of protein shakes. I prefer to eat some fat-free or low-fat Greek yogurt with fruit and a little granola or an apple with a mozzarella string cheese. I think you should eat what makes you feel good and never underestimate staying hydrated all day and using caffeine wisely. 
Q: Tell us about your new job!
A: I will be working with a health and fitness company that contracts with the U.S. government. I am so very excited for this opportunity. My main job will be serving as an educational resource for those on our military bases. I'll be leading meditation classes, testing body composition, cholesterol screenings, blood pressure readings, and providing general health classes to address every facet of health, not just diet and exercise. 
Q: What are some things you'll miss about ONU?
A: I'm really going to miss my friends and being so close to everyone! It's crazy to think that I won't be a walk or five-minute drive from the people I love so much. I really like learning and I hope that grad school is in the plans so I can continue that! I think ONU really cares about its students and I'm going to miss the environment here. But they do prepare you to be the best you can be and make the world a better place. 
Q: What excites you about your future as a health care professional?
A: I think that I will become more confident once I am exposed to more and truly play a bigger role in people's health. I hope that everyone I come into contact with is inspired to be better, feel better, and do better. 
Q: What are three key exercise-related pieces of advice you'd like to share with those who are wanting to get healthier?
• It is never too late to start. Even small changes make a big difference. Even one or two days a week are better than zero. 
• I think that if we appreciate and recognize what our bodies are capable of, the health journey becomes so much more than just "looking better" and people stick with it!
• Seek credible advice, do NOT put much stock into sources that are not open with where they got their information. There is no magic pill or diet. Know that it is OK to seek help if you are lost on your health journey! There are so many exercise physiology professionals ready and willing to help!
Q: Is there anything else you'd like to share?
A: Thank you so much, Joy, and all of my professors, classmates, and friends who have helped me along the way at ONU. Go Bears!