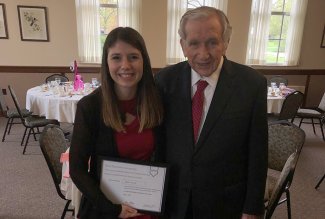 Kara Dilts earned the 2019 Catherine Freed Outstanding Senior Female Leadership and Service Award from Ohio Northern University. Dilts graduated from ONU this spring with a bachelor's degree in business administration.
During her college career, Dilts made a lasting impact on the campus and local communities through her work with ONU outreach efforts. Dilts was actively involved with the "Ada Friends" program that is sponsored by ONU's religious life program. In this endeavor, she served as a mentor for a local youth and also was coordinator of the program. In this position, Dilts implemented new measures to interview prospective ONU students and created new and engaging group-programming efforts. For example, she arranged for the Columbus Zoo to bring a program to campus when transportation to the zoo was unavailable.
Further, Dilts has been involved with the Student Planning Committee, as an event coordinator and as president. In this position, she coordinated several programs that were jointly sponsored by various campus organizations in Greek life, religious life and academic honoraries.
The award is named for the late Catherine Freed, the former first lady of ONU, who led a life of service to others. The annual award recognizes a fourth- or fifth-year woman who has shown extraordinary leadership and service throughout her time at Ohio Northern. The first award was presented in 1998.