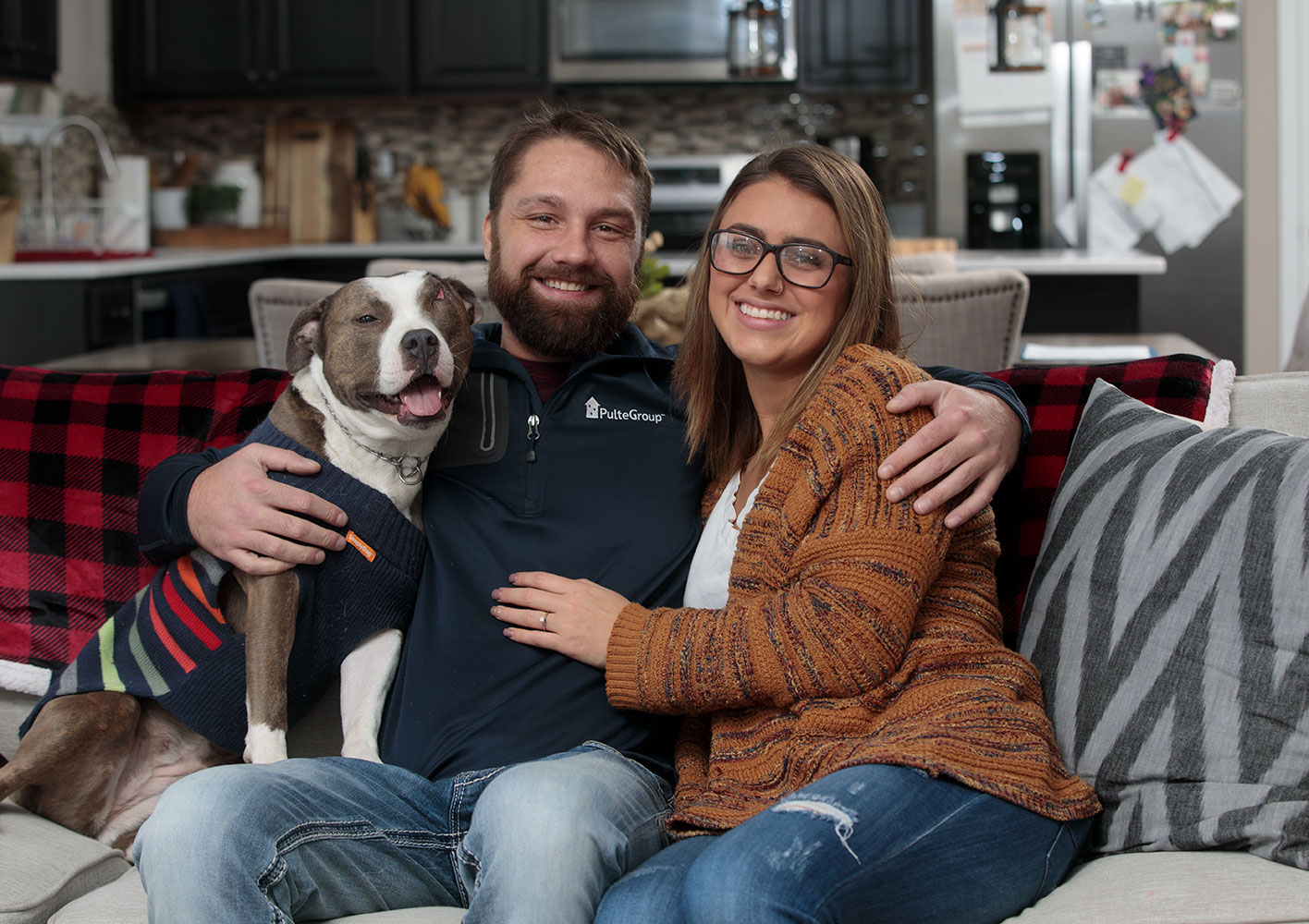 U.S. ARMY VETERAN DAUS HEMPKER AND HIS FIANCÉ, JESSIE ALIANIELLO, BS '18, WOKE FROM A PHYSICAL AND EMOTIONAL NIGHTMARE TO THE CHANCE TO LIVE THE AMERICAN DREAM.
In September 2010, Daus Hempker was on patrol in southern Afghanistan when he stepped on a pressure-plate IED (improvised explosive device). Daus was six feet away from the IED when it finally detonated. He was momentarily knocked unconscious and awoke to the sounds of screams. He ran to administer aid to a nearby soldier and realized that he, himself, had taken shrapnel all throughout his abdomen. He would later learn he'd suffered a severe head injury as well. He and the fellow wounded were picked up by a Black Hawk helicopter and flown to Kandahar for triage.
In 2012, Daus had shrapnel inside his body that still needed to be removed. It was a massive undertaking. Surgeons made an incision from his sternum to his navel and essentially removed all of his vital organs in order to reach the affected area and subsequently put him back together. Unfortunately, the surgery wasn't completely successful and resulted in subsequent surgery to remove a remaining piece of shrapnel lodged next to his aorta. Even with all physical traces of the IED gone from his body, the debilitating pain remained.
"The pain was excruciating; I have never experienced anything like it," he says. "I would have smooth muscle spasms throughout my digestive system when I ate, slept too long or had bowel movements. It was absolute torture."
His life had been spared, but he felt anything but healed.
Daus returned home to Ada, Ohio, and coped with his new reality the best he could. He enrolled at ONU, majoring in philosophy, politics and economics (PPE). In 2015, he was paired with Jessie Alianiello, BS '18, to complete a project for ONU's Model United Nations team. It would go on to become a national award-winner, and they would become inseparable.
"We're really best friends," she says. "I mean, we do everything together. We truly enjoy being around each other, and when we met at ONU, we had started spending pretty much all of our free time together. We have a lot of the same interests. We're both very relaxed people, but we have very similar goals and mindsets."
Daus seamlessly chimes in, "It just works."
It started out just like any iconic romance, but in real life nothing worth having is ever easy. Inside, Daus bore deep, invisible wounds, physically and mentally. During his more than six years of service in Iraq and Afghanistan, he earned the Combat Infantryman Badge and a Purple Heart. His time in the U.S. Army was a great source of pride, but it was also the reason for his physical pain. As a result, he hid much of his life before ONU from almost everybody.
"I never let anyone know that I had these severe issues going on, and I would immediately leave the scene if I began to feel the slightest bit of pain," he says about his time at ONU. "It was just destroying my life. I just couldn't continue on, mentally, physically, spiritually, any of that. As much as I wanted to go to school and get it done, I couldn't."
Jessie realized the severity of Daus' situation when she noticed that he wasn't eating or sleeping. When his weight dropped to 115 pounds, she knew she needed to do something drastic to help. She was just one year away from graduating, so it wasn't an easy decision, but, together, they both decided to drop out of college so that Daus could confront his health issues head-on. They knew the only way they could overcome this hardship was together.
HE HAS BEEN THROUGH SO MUCH," JESSIE SAYS TEARFULLY. "JUST STRUGGLE AFTER STRUGGLE. AND SEEING HIM GO THROUGH THE PAIN THAT HE HAS AND NOT BEING ABLE TO DO ANYTHING ABOUT IT IS THE WORST FEELING IN THE WORLD."
There were days when neither of them thought they could make it through. With no way to treat Daus, just the simple act of holding each other's hands often proved to be the strongest medicine. They also found a significant source of healing in a loyal, four-legged companion named Alala. Daus and Jessie rescued the pit bull from the Franklin County Dog Shelter, and she, like Daus, has scars. In fact, it was because of her scars that nobody else wanted her. She would've been euthanized, but Daus and Jessie saw something in her they could not ignore – a kind-hearted soul just aching to be loved.
At the beginning of 2018, Daus underwent surgery to have a pain pump inserted under his skin that runs into his spinal cord and micro-doses him with pain medication every hour. The surgery was successful and provided the pain relief Daus so desperately needed. They had finally found their long-awaited answer.
"Comparing myself from then to now is like comparing night and day," Daus says. "I can eat with little to no problem, I can have bowel movements with no problem, and I can live a normal, healthy, functioning life, which would have never been possible before. Now, it is just a matter of healing emotionally and mentally after all those years of suffering."
After all the struggling, all the sacrifice, all the heartache, things were finally on the upswing. Jessie was so committed to getting Daus well again that she'd given up everything she'd worked so hard for, and she wouldn't have had it any other way. But after all that she'd sacrificed in the name of unconditional love, she knew she still needed to do something for herself. She needed to finish her degree at Ohio Northern.
"I always had these expectations to graduate in four years and get my degree, the very standard path. I never once in my life thought that I would deviate from that," she says. "For me, it was kind of hard at first to wrap my head around the fact that I wasn't going to graduate in four years."
At ONU, she was met with the utmost support and understanding. She was approved to attend ONU as a transient student, taking classes through Columbus State Community College and transferring them over to ONU to count toward her degree requirements. She'd already completed her capstone experience before she'd dropped out, but she hadn't done the final presentation. Her faculty advisor graciously helped work things out for Jessie so that she only had to physically come to Ada for a few class sessions and to give her final presentation.
In May 2018, Jessie finally crossed the finish line. She proudly walked at spring commencement, a bachelor's degree in biology in hand, and Daus was right there celebrating with her.
IT WAS A VERY REWARDING FEELING," SHE SAYS. "ALL THE PEOPLE WHO DOUBTED THAT I WAS GOING TO COME BACK – I DID. I DID IT IN SPITE OF EVERYTHING THAT WE'VE BEEN THROUGH. LONG NIGHTS OF HIM NOT FEELING WELL, I STILL PUSHED THROUGH AND GOT HOMEWORK DONE. GRADUATING FROM ONU WAS A VERY GREAT FEELING, AND I WOULDN'T HAVE WANTED TO GRADUATE FROM ANYWHERE ELSE."
But good fortune wasn't done smiling on them yet.
PulteGroup, a home construction company, launched its Built to Honor program in 2013 to provide combat-wounded veterans with mortgage-free homes in partnership with the Military Warriors Support Foundation, which provides mentoring support and financial advising services to the home recipients. The new home in Pataskala, Ohio, was to be PulteGroup's first Built to Honor home in its Cleveland/Columbus market, and the recipients of the home had to be just as special. In Daus and Jessie, the Built to Honor program couldn't have found more exemplary recipients.
"Just by spending time with Daus and Jessie, you see how deserving they are and how he doesn't consider himself a hero," says Macey Kessler, corporate communications manager for PulteGroup. "He's a very humble guy. His story is inspiring – how he pulled himself out of depression, coming back into civilian life. Their love story is incredible. It's quite an honor to do what we do best, which is build a home to give to such a deserving and wonderful hero for our country."
Daus and Jessie were notified on May 23, 2018, that they were chosen to receive the new home mortgage-free. Along with the home, they would also receive monthly financial advising sessions for a period of three years to teach them things like budgeting, tracking spending, building credit, paying down debt, building up savings and home maintenance skills – all to ensure they were financially secure on their own going forward.
After risking his life for his country and the seven-plus years of debilitating pain that followed, this good news was like a breath of fresh air for Daus. But there was still something else he needed to do.
"I wouldn't be here right now if it wasn't for Jessie," he says. "I wouldn't be who I am. She makes me an overall, just better person, and what she did for me, I could never repay her for that. None of this would've happened without her, so she is everything."
Daus knew exactly what to do. He took Jessie out to a dinner at the Refectory Restaurant & Bistro in Columbus, and there, he popped the question he knew he was born to ask her. Of course, she said "yes."
With the painful past now securely behind them, Daus and Jessie now press on with their sights set on a bright future. When you walk into their home, it doesn't take you long to notice that it's a dwelling abundant with love, honor and thankfulness. And while the house is a wonderful start, they've always known that it isn't the physical structure that makes a home – it's the love inside.
Daus and Jessie are planning their future together, and Daus is planning a return to ONU in the near future to finish his degree and, hopefully, help others like him at ONU.
"I think that civilians have a hard time understanding the complexity of veterans' illnesses, both physical and mental, and how debilitating it can actually be for them," he says. "While I was at ONU, they didn't have a veteran chair on the student board. Once I return, I would like to spearhead the creation of such a position."
In the meantime, he is chipping away at his last few semesters as an ONU transient student, taking classes at Columbus State before he returns to ONU to finish up his last few classes. He hopes to attend law school someday. When he thinks about his life since that day on the road in Afghanistan, he is reminded of the Bible and the story of Job. Inscribed on one of the beams in their new home are the words:
"And in the end the Lord gave Job twice as much as he had before, for all the adversity he had overcome. The Lord blessed him more in his later days than in the beginning, and he lived a long and prosperous life."
While their house did come fully furnished (a special surprise for them when they first received their keys), there is still one nook waiting for its finishing touch – a study area where they will hang both of their ONU diplomas along with that Model UN project that made history. It's "the culmination of everything," as Daus puts it – a perfect representation of their partnership – then, now and all their days to come.