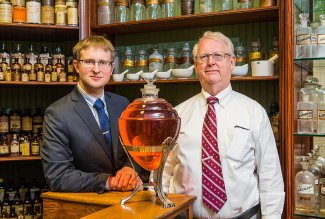 As America approaches the one-year anniversary of living in the grasp of COVID-19, new vaccines buoy our hopes for an end to the pandemic. With two safe and effective vaccines available, the hard part should be over. Finding a cure was always going to be the challenge, and to have two developed in less than nine months and more on the way, is nothing short of miraculous. What we are experiencing now—the wait to get people immunized— should be the easy part. After all, the COVID-19 vaccines might be new, but the concept of vaccination is not.
It is becoming apparent that our nation is going to need a comprehensive national strategy to vaccinate our population at the rate needed to end the pandemic. Manufacturing, logistics, transportation, skilled labor—all of it will need to be mobilized to meet the need. And sitting there, just waiting for the opportunity to do their part, are the practitioners of one of the most vital professions in this effort—the pharmacists.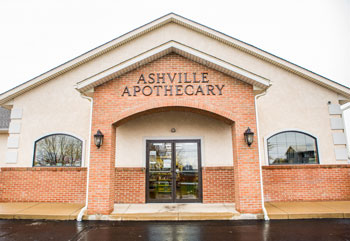 The Mabe family, with two generations of ONU alumni (Robert Mabe, BSPh '71; Stephen Mabe, PharmD '10; Nathan Mabe, PharmD '14), owns and operates a pair of independent retail pharmacies south of Columbus, Ohio. Ashville/Circleville Apothecary, as they are collectively known online, are oases in a health care desert. Now in their 43rd year of business, Stephen is overseeing the family business amid a transitory period in the profession that has been compounded and accelerated by COVID-19.
"When I was studying pharmacy at ONU from 2004-10, that's when we started to see an expansion of the kinds of health services pharmacists could legally provide," says Mabe. "When I started, pharmacists were still doing traditional pharmacist things, but by the time I graduated, I had been trained to give immunizations and to work as part of multidiscipline health care teams. It was an exciting period for us as students to see the changes occurring."
Pharmacists have long been the most accessible health care providers for the largest percentage of the U.S. population, and as a result, state legislatures over the past two decades have increasingly recognized pharmacists' value in preventative health care interventions such as immunizations. Pharmacists and pharmacy interns under the supervision of a pharmacist are currently authorized to administer a wide array of vaccines to patients in Ohio, including influenza, shingles, MMR, pneumonia and most recently COVID-19.
Mabe's two pharmacies administer the bulk of vaccinations in their respective communities. He credits the independent nature of his pharmacies for adopting in-store vaccinations so early. Without the corporate bureaucracy of the larger national retail chains, Ashville Apothecary and Circleville Apothecary were licensed and ready to vaccinate patients years before their larger rivals. That head start has made his stores the "go-to locations for vaccinations" in the area. Even some of the local doctors have begun to defer patients to them for immunizations during the pandemic. Now, as the state aims to ramp up COVID-19 vaccinations, Mabe is ready and waiting to serve his community.
"We applied for, and were accepted into, the Ohio Department of Health COVID-19 vaccination program joining hundreds of pharmacies across the state," says Mabe. "We experienced a delay with receiving the vaccine, but we were able to use that time to develop our training protocols and procedures to be ready on day one."
Day one ended up being Thursday, Jan. 20, when they received 40 percent of Pickaway County's allocated doses of the COVID-19 vaccine. Mabe hopes to vaccinate more than 400 individuals over the age of 75 with the first of two doses of vaccine as pursuant to phase 1B of Ohio's vaccination plan within the week. That is the hope at least. There is always the concern that some will refuse to get vaccinated, but Mabe is confident that his patients will trust his medical expertise, and more importantly, trust him with their health.
"My patients know me on a first-name basis. I know them on a first-name basis. They're my neighbors. I grew up in this community. They've known me since I was a kid, and they know that they can ask me about the vaccine and that I'll tell them the truth—that it's safe, effective and vitally important beating this virus and getting back to normal life," he says.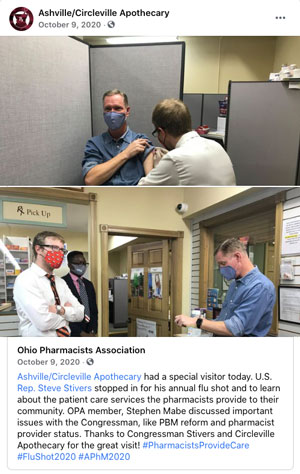 Becoming a leading vaccination provider for Pickaway County is not the only change the COVID-19 pandemic has brought about to the Mabe family pharmacies. When the pandemic began, they took an aggressive policy to protect the safety of their patients. The first step was transitioning their business to a delivery-based model for prescriptions. They went from barely doing any deliveries to 50-70 deliveries a day practically overnight. In the fall, they promoted flu shots and even immunized U.S. Representative Steve Stivers to help educate people on the need to prevent greater strain on the local health care resources during the pandemic.
But these changes, caused as they were by necessity, are just the beginning. Mabe believes that the pandemic is demonstrating to the world the value pharmacists have in delivering positive public health outcomes at the local level. He sees more collaborative practice agreements with doctors at the retail level as telehealth becomes more popular. Don't be surprised to see kiosks inside pharmacies where patients can consult virtually with their doctor and then walk to the counter to receive their medication.
"This pandemic, as terrible as it has been, has kind of become our moment," says Mabe. "We're still the most accessible health care provider out there. And I think this is just going to be the start of many things. You're not just going to see what a modern pharmacy can do, but how a modern pharmacy can transform into an even more modern pharmacy over the next decade."
The COVID-19 pandemic has impacted the world in countless ways. It has tested our institutions. It has strained our people, both physically and emotionally. It has revealed our weaknesses. But it has also pushed us forward. It has forced us to adapt, improvise and overcome. A vaccine had never been developed in such a short amount of time before this virus demanded that our scientists —many of whom were pharmacists— find a way. And now, as the light of a new dawn forms on the horizon, we'll turn to our neighbors, roll up our sleeves and get to work healing, rebuilding and reconnecting once more.