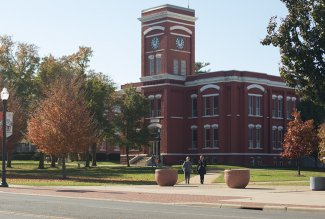 Globally recognized human rights expert Juan E. Mendez will discuss "The status of torture and cruel, inhuman and degrading treatment or punishment in the United States and world today" at 11:30 a.m. on March 31 in the Forum inside James F. Dicke Hall at Ohio Northern University. The talk is free and open to the public.
A native of Argentina, Mendez was recently named by the International Center for Transitional Justice (ITCJ) as a delegate to the Colombian Selection Committee. This committee was created by the 2016 peace agreement between the Colombia government and the Revolutionary Armed Forces of Colombia (FARC). Mendez was president of ICTJ from 2004 to 2009 and currently serves as its president emeritus.
Mendez has held several prominent roles on the international stage, including the United Nations special adviser on the prevention of genocide; the UN special rapporteur on torture and other cruel, inhuman and degrading treatment or punishment; special adviser on prevention to the prosecutor of the International Criminal Court; and co-chair of the Human Rights Institute of the International Bar Association.
Secretary-General of the United Nations Kofi Annan named Mendez as his special adviser on the prevention of genocide, a position Mendez held from 2004 to 2007.
Mendez has dedicated to his legal career to the defense of human rights and has a distinguished record of advocacy throughout the Americas. As a result of his involvement in representing political prisoners, the Argentinean military dictatorship arrested Mendez and subjected him to torture and administrative detention for more than a year. During this time. Amnesty International adopted Mendez as a "prisoner of conscience." Mendez moved to the United States in 1977 after being expulsed from Argentina.
For 15 years, he worked with Human Rights Watch, focusing on human rights issues in the Western Hemisphere. In 1994, he became general counsel of the organization, with worldwide duties in support of the organization's mission.
Mendez was executive director of the Inter-American Institute of Human Rights in Costa Rica. Between 2000 and 2003, he was a member of the Inter-American Commission on Human Rights of the Organization of American States, serving as its president in 2002.
He has been professor of law and director of the Center for Civil and Human Rights at the University of Notre Dame. He has also been on the faculty at Georgetown Law School and at the Johns Hopkins School of Advanced International Studies.
He has received several human rights awards, such as the Rafael Lemkin Award for contributions to the prevention of genocide by the Auschwitz Institute on Peace and Reconciliation and the Goler T. Butcher Medal from the University of Quebec in Montreal.