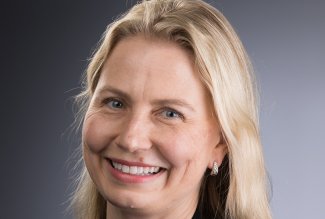 Holly Lynn Baumgartner, Ph.D., has been named dean of the Getty College of Arts & Sciences at Ohio Northern University, effective July 1. She was previously dean of the College of Arts and Sciences at Lourdes University in Sylvania, Ohio, a position she held since 2013.
"I am confident that Dr. Baumgartner has the experience, leadership qualities and personal attributes to provide strong leadership for the College of Arts & Sciences," said ONU President Daniel DiBiasio, Ph.D. "She is an experienced and successful teacher, scholar and administrator, with a broad background in higher education."
ONU Provost and Vice President for Academic Affairs Maria Cronley said, "Ohio Northern is committed to offering students exceptional, high-impact educational experience that will position them for rewarding careers and fulfilling lives. and it is clear that Dr. Baumgartner shares that commitment. In this position, she will provide leadership to a college that encompasses a range of academic disciplines, and Dr. Baumgartner's broad experience will serve her well in this role."
Baumgartner joined Lourdes University as a professor of English in 2010, and she has also served that university in a number of other administrative positions, such as interim chair of the Music Department, director of the College of Arts and Sciences Dean's Scholars Program, and the university's accreditation liaison officer. In addition, she chaired the Presidential Innovations Task Force at Lourdes.
She has served several colleges and universities in Ohio and internationally, including teaching and visiting lecturer positions at Trinity and Exeter colleges of Oxford University in the United Kingdom.
Baumgartner is a highly respected scholar whose work has been widely published. She has presented at numerous national and regional conferences and has served on editorial and other boards related to her educational expertise.
Baumgartner earned her bachelor's degree in English literature/classical studies from the University of Toledo, her master's degree in American culture studies from Bowling Green State University and her doctoral degree in English from Bowling Green State University.
She replaces Tena Roepke, a long-time mathematics faculty at ONU, who has served as interim dean of the College of Arts & Sciences and chaired the search committee.
"Provost Maria Cronley and I want to express our deep appreciation and gratitude to Dr. Roepke for her outstanding leadership of the College of Arts & Sciences and for the thorough work by her and other members of the search committee," DiBiasio said.
ONU's Getty College of Arts & Sciences encompasses a wide range of studies in the liberal and fine arts, sciences, and pre-professional programs. In support of the University's mission, the college strives to prepare students for graduate programs, professional studies and employment as well as develop the critical-thinking skills that will serve students during their academic careers and throughout their future professional and personal pursuits.