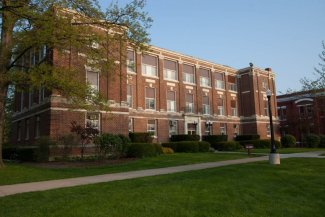 Hannah Smith of Cincinnati has received the 2020 Catherine Freed Outstanding Senior Female Leadership and Service Award from Ohio Northern University. Smith, a graduate of McAuley High School, earned a bachelor's degree in business administration from Ohio Northern this spring.
During her college career, Smith made an impact on both the university and area communities. She was involved with the ONU chapter of Habitat for Humanity, serving as fundraising officer and also participating in trips to North Carolina to build houses for those in need. Further, she was assistant coordinator of Ada Friends, a mentorship program that pairs ONU students with area children. Also, Smith was a Sunday school teacher for Ada First United Methodist Church, providing lessons and childcare for children ages 3 through 5 years old.
Additionally, Smith was a HealthWise yoga instructor. She also was a member of the residence life staff and the ONU Dicke College of Business Administration Dean's Advisory Council.
Further, Smith gained professional experience through internships with the ONU Pettit College of Law in career and professional development as well as the Injured Federal Workers Law Group in Raleigh, N.C.
Smith will attend the ONU College of Law beginning this fall. Upon completing her juris doctoral degree, she plans to secure a position at an employee benefit law firm, serve as a guardian ad litem representing children in need and remain active in her community.
The award is named for the late Catherine Freed, the former first lady of ONU who led a life of service to others. The annual award recognizes a fourth- or fifth-year woman who has shown extraordinary leadership and service throughout her time at Ohio Northern. The first award was presented in 1998.