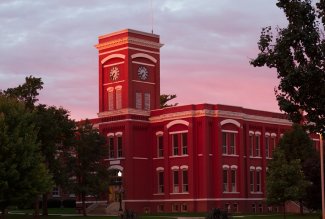 Through a common reading project, Ohio Northern University utilizes the power of the written word to connect with new students and further the learning community on campus. The endeavor, which began in 2013, involves freshman students reading a book and then discussing it during "transition experience classes" in the fall.
"We are looking to have a shared intellectual experience for students of various academic pursuits," said Pat Croskery, director of ONU's Honors Program and associate professor of philosophy. "The goal is to generate conversations and recognize how the themes are applicable to students across the academic spectrum."
Students read the book during the summer. This year's selection was "The Circle" by Dave Eggers.
"We look for a book that is relevant to students, and that is especially true with 'The Circle,' which involves areas such as business and computer science and also discusses topics such as privacy, health care and social media interaction," Croskery said.
The reading project is first introduced to incoming students during summer orientation sessions and plays a role in preparing the students to make the most of their college experiences.
"We are looking to help facilitate the transition from high school to college as well as build connections between students in multiple academic disciplines and colleges," Croskery said.
The book choice was made by ONU freshmen in the spring.
"Ohio Northern is a very bottom-up university, and this captures that spirit. In many ways, this effort has been generated at the ground level and is very student-focused," Croskery said.
The transition experience classes vary by college, and the common reading project helps to maintain a common theme among all freshman students.
Croskery and others on campus have looked to take this reading project, which is used at other universities, and tailor it to the ONU educational experience.
"A unique aspect of ONU is that we combine professional studies with a robust liberal arts offering," Croskery said. "Therefore, we have looked to tailor this reading project accordingly, so that students see the relevance of insights that pertain to various academic disciplines and career paths. The University recently joined the New American Colleges and Universities (NACU), and this project supports one of NACU's focal points of developing an integrated learning environment."