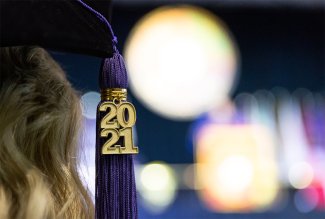 Perseverance and resilience amid the COVID-19 pandemic were prevailing themes during Ohio Northern University four commencement ceremonies held May 8 and 9, which were the first to take place in in person since spring 2019. 
"You have dealt with so much change and adversity and you have overcome that to be here today," College of Engineering Dean John-David Yoder commended graduates on Sunday in King Horn Sports Center's Field House during the daylong deluge; guests were able to remain dry thanks to a last-minute venue change instigated by an inclement weekend weather forecast.
A total of 609 individuals earned undergraduate and graduate degrees this past weekend. Class of 2020 graduates, whose commencements were cancelled because of the pandemic, were also invited back to campus to participate in the formalities of commencement exercises.
This year, student speakers from each college were featured instead of invited dignitaries. Below are excerpts of what graduates from the colleges of law, pharmacy, engineering and business administration conveyed:
Gabe Rastatter, J.D. '21, concentrated on the concept of growth over time, particularly during hard times, made possible with patience and nurturing. "Getting the grade on the exam take just three hours to take the test. Graduating law school didn't just happen this morning," he noted during the May 8 morning event.
Scott Smith, J.D. '21, chose to speak about the necessity of wisdom and the practice of gratitude when it comes to success. "Surround yourself with people whose fruits of their life are a testament to their wise choices," he advised.
Rachael Griffith, Pharm.D. '21, of Clinton Township, Michigan, celebrated the knowledge that she and her pharmacy classmates gained while at ONU. "We leave here with the knowledge and power to positively change patient care," she said.
Samra Eskender, Pharm.D. '21, of Loveland, Michigan, similarly explained that ONU had "prepared me with the foundation to be a strong, successful pharmacist."
Anne Major '21, of Okemons, Michigan, who earned a degree in electrical engineering, encouraged her classmates to value social interactions and to "go out of your way to help others"
Kyle DeSana '21, of Gross Ile, Michigan, who earned a degree in marketing, urged graduates to acknowledge and value the everyday ordinariness of life as the extraordinary. "Don't dread the destination. Be captivated by the journey. Embrace and be mindful of the chaos that is your life," he said.
Alexa Thrush '21, of Lima, Ohio, who graduated in December 2020 with a degree in professional writing and creative writing, expounded upon nostalgia's benefits. "No matter how much these paths behind us change, they'll still be our paths," she said. Time spent at ONU, she told graduates, will be used "to better understand ourselves, each other and society."
Cecilia Riepenhoff '21, of Delaware, Ohio, who graduated with an interdisciplinary degree in philosophy, politics and economics, reflected on community. She said the time she spent discoursing with classmates helped her develop impactful relationships and gain new perspectives. "Our community survived the lockdown because each of us served our roles as polar bears," she said.
On May 23, commencement ceremonies are scheduled to be held for 2020 pharmacy graduates and undergraduate and master of science in accounting graduates.