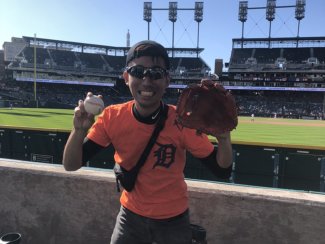 International student makes the catch of a lifetime at Detroit Tigers game
When international student Kai Kawaguchi first learned he was going to study in the United States, he knew he had to make it to a Major League Baseball game. But he never dreamed he would snag a home run ball with his own two hands.
Thanks to Ohio Northern – and a little bit of luck – that's precisely what happened.
On Sept. 26, Kawaguchi was among a group of 11 ONU international students, accompanied by Interim International Services Coordinator Chris Caldwell, that attended a baseball game at Comerica Park in Detroit, Mich., between the Detroit Tigers and the Minnesota Twins – one of the last games of the regular season. The group was sitting in left field seats near the bullpen in the frontmost row.
There sat Kawaguchi, wearing the baseball glove he'd brought with him from Japan. He was determined – he was going to get his hands on an official MLB baseball to bring back home.
Up to that point, Kawaguchi had been begging players for an official baseball. He asked pitchers warming up in the bullpen. He asked their catchers. He yelled to the left fielder to throw a warm-up ball and even yelled to the center fielder to throw an end-of-inning fly ball. No luck.
Then, in the top of the eighth inning, his moment came. Twins catcher Willians Astudillo crushed a 3-1 pitch, and the line drive soared over the outfield fence, over the bullpen and directly into Kawaguchi's glove.
Nice catch, Kai! ONU exchange student Kai Kawaguchi snagged a home run at a recent Detroit Tigers game. A contingent of 11 ONU international students attended the game to experience the American pastime in person. pic.twitter.com/Okrvpid4iV

— Ohio Northern Univ. (@ohionorthern) October 3, 2019
His reaction was, in his own words, "so surprised and so happy – just happy."
"It was surreal!" says Caldwell. "I have gone to baseball games for the last 30 years. I have been to six professional stadiums and over 10 games. In all that time, I have never seen a ball that seemed predestined to go into someone's mitt like that."
None of this would've been possible had it not been for a casual conversation between Kawaguchi and Caldwell when ONU's 2019-20 international students first arrived just over a month earlier.
"I talked with Chris before International Welcome Weekend," Kawaguchi says. "I wanted to go to a Major League Baseball game. I just talked with him, so I didn't expect he would take us to a baseball stadium, but then he sent me an email, so I was very surprised, and it became my dream come true."
In fact, Caldwell had made a special effort to make it happen.
"Though his favorite team, the LA Dodgers, wasn't coming anywhere near the Midwest at the time, I still put together an event for him and his peers," he says. "The goal was to expose international students to the Great American Pastime."
An avid baseball fan, Kawaguchi attends at least five to six games each year back in Japan. Never before has he caught a ball, let alone a home run. The fact that he made such an incredible catch at an MLB ballpark made it that much more special.
When Kawaguchi called home to tell his family what had happened, his mother was ecstatic, but, knowing his tendency to sometimes misplace things, she jokingly cautioned him – don't leave it in America.
We think it's safe to say there's no chance of that happening.