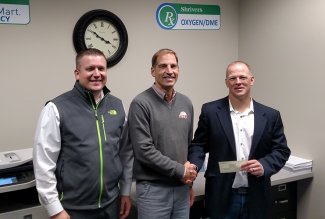 John and Tabitha Coler of Philo, Ohio, have made a lead gift to establish The Shrivers Pharmacies and Coler LTC Endowed Scholarship Fund at Ohio Northern University. The endowment will support scholarships for Ohio Northern students majoring in pharmacy and related allied health sciences as well as business who demonstrate financial need and reside in the communities served by Shrivers Pharmacies.
The first scholarship will be awarded during the 2017-18 academic year.
In many ways, this endowment continues the Colers' gratitude, visionary spirit and emphasis on serving the residents of southeastern Ohio.
"I'm very appreciative of my Ohio Northern education, which provided me the foundation to pursue a meaningful career in the pharmacy profession," said John Coler, a 1995 graduate of Ohio Northern's College of Pharmacy. "It's important for Tabitha and me to provide scholarship assistance for the next generation of leaders in the pharmacy and health care professions."
After earning his college degree, John Coler began working for Randy Shriver at Shrivers Pharmacy in Zanesville, Ohio, in 1997. He has since expanded the business by acquiring five additional locations in the region. The pharmacies are part of Shrivers HealthMart.
John Coler is currently president and owner of Shrivers Pharmacies and Coler LTC.
"At the very core of our business model is being a contributing member in the communities we serve," Coler said. "We hope our endowed scholarship will be another avenue that can help support our community by encouraging and supporting students with interest in pharmacy and related health professions."
Beyond the scholarship endowment, Shrivers and Coler LTC will establish other partnerships to benefit ONU students in the future. The partnership will include experiential learning opportunities for students with the organization and will provide mentoring and consulting as ONU develops a learning track dedicated to students interested in community and independent pharmacy practice.
 "We are very grateful to John and Tabitha Coler for their generosity in establishing this endowed scholarship," ONU President Daniel DiBiasio said. "We are helping to make ONU pharmacy education more affordable for more students."
In addition to this gift, John Coler is establishing a matching gift program for the approximately 150 employees of Coler Drug and Shrivers Pharmacies.
"This gift is important in that it directly impacts students from southeastern Ohio who are preparing for careers in the health professions," said Steven J. Martin, dean of ONU's Raabe College of Pharmacy. "The matching component of this gift is an example of the leadership that John and Tabitha embody. The forward-thinking, interdisciplinary spirit of this gift mirrors the approach we emphasize in the College of Pharmacy. We look forward to partnering with Shrivers/Coler LTC to expand the learning opportunities for our students."
John Coler has been active in legislative advocacy and was recently awarded the Ohio Pharmacists Association Good Government Award, which honors pharmacists who have made major contributions to the public. Further, he serves on the board of the Independent Pharmacy Cooperative (IPC), which has evolved into the nation's largest purchasing organization for independent pharmacies.
Additionally, John Coler has remained connected to ONU as a leadership volunteer, serving as a guest lecturer for classes and guest speaker for pharmacy student organizations. He also has provided ONU students with opportunities to attend the IPC annual conference to learn more about the business side of pharmacy.