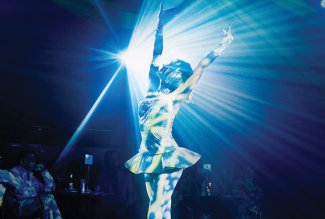 Ohio Northern University's Freed Center for the Performing Arts will present New York City's Ballets with a Twist, which will perform "Cocktail Hour: The Show" on Saturday, Jan. 30, at 7:30 p.m. and Sunday, Jan. 31, at 2 p.m.
Created by artistic director and choreographer Marilyn Klaus, "Cocktail Hour" reinvents the glamour and excitement of classic entertainment with an original mix of charismatic choreography, intoxicating music and exquisite costume design. This pop-infused performing-arts experience combines the magnetism of Hollywood's Golden Age with a sleek 21st-century sensibility, capturing the timeless American spirit in a series of witty, sparkling vignettes.
Klaus, whose choreography has been seen internationally, formed Ballets with a Twist in association with Grammy-nominated composer Stephen Gaboury and costume designer Catherine Zehr. Klaus' company, known for its community-centered approach to the arts, has appeared in a wide range of venues, from Cleveland's PlayhouseSquare and New York City's Beacon Theatre to Lincoln Center and the Tribeca Film Festival.
Gaboury's compositions have been performed by celebrated musicians nationwide. He has collaborated and toured the world with pop/rock icon Cyndi Lauper for more than a decade, and he has shared the stage with legends such as Patti Labelle, Suzanne Vega and Ute Lemper. Gaboury's music has been heard in concert, on television and in films (including "Boyhood" and "American Beauty").
Zehr is the artistic force behind the company's costume design. Her creations evoke the origins and essence of each dance with dazzling colors and ornamentation. Zehr honed her skills while working at major American fashion houses, then by designing and manufacturing attire for her own label. She studied art and design at Washington University and New York's Fashion Institute of Technology (FIT), where she and the company recently delivered the presentation "Designing Costumes for Ballets with a Twist" as part of The Museum at FIT's Fashion Culture series.
Tickets are $20 for adults, $15 for seniors, $10 for ONU faculty and staff, and $5 for ONU students and children. The Freed Center box office is open Monday through Friday from noon to 5 p.m. and Saturday from 10 a.m. to 2 p.m. Phone orders are accepted with American Express, MasterCard, VISA or Discover by calling 419-772-1900. Tickets also are available online at https://www.onu.edu/freed