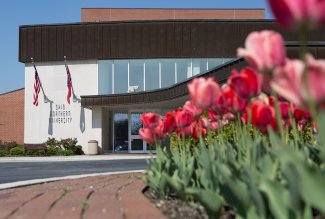 The Ohio Northern University Department of Theatre Arts will present the musical comedy "Young Frankenstein" from April 11 through April 14 in the Freed Center for the Performing Arts. Performances will be held at 7:30 p.m. on April 11, April 12 and April 13, with 2 p.m. matinee performances on April 13 and April 14. The performance is being underwritten by Quest Federal Credit Union.
"Young Frankenstein" is based on the 1974 Mel Brooks comedy film, which is an affectionate parody of the classic 1930s horror film.
Tickets are $5 for students, $10 for seniors and $20 for adults. To order, visit freedcenter.com or call the box office at 419-772-1900.
Raymond Cronley leads the cast of ONU students as Dr. Frederick Frankenstein, with Hayden Edwards as Igor, Elena Matchen as Inga, Taran Beasley as Frau Blucher and Darby Beckwith as Elizabeth. Courtney Kattengell, assistant professor of theatre arts, is serving as faculty liaison.
Guest director James Gray is recreating this Broadway extravaganza, with original Broadway direction and choreography by five-time Tony Award winner Susan Stroman. Show-stopping musical numbers, such as "Puttin' on the Ritz," complete with tap-dancing monsters, round out this monstrously fun show.
The plot sees Frederick Frankenstein, an esteemed New York brain surgeon and professor, inherit a castle and laboratory in Transylvania from his deranged genius grandfather, Victor Von Frankenstein. He now faces a dilemma: Does he continue to run from his family's tortured past, or does he stay in Transylvania to carry on his grandfather's mad experiments reanimating the dead and, in the process, fall in love with his sexy lab assistant Inga?