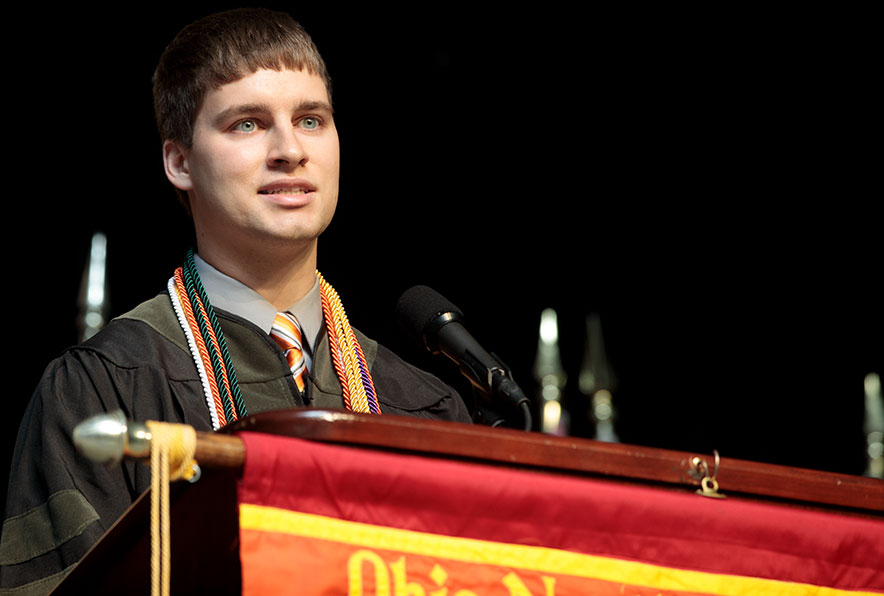 Austin Hilverding, PharmD '18, continued the tradition of ONU excellence this year by becoming the fourth consecutive ONU student to win the United States Public Health Service (USPHS) Excellence in Public Health Pharmacy Practice Award.
Hilverding received the award for his research project regarding expanded roles for pharmacists in Ohio, such as the potential provision of contraceptive products to patients without a physician's prescription. "I surveyed Ohio pharmacists' attitudes and beliefs about pharmacist-delivered hormonal contraceptives," says Hilverding. "This was the first study to be conducted on the topic in the Midwest U.S. There was a great response rate and abundant data to analyze and compile into a manuscript. 
Ultimately, Hilverding presented the research as a poster presentation at the 2017 American Pharmacists Association (APhA) Annual Meeting and then again as a podium presentation at the 2017 Ohio Pharmacists Association (OPA) Annual Conference. His research was then accepted published in the July-August edition of Journal of the American Pharmacists Association.
Hilverding completed the project with his faculty advisor, Dr. Natalie DiPietro Mager, PharmD '01. "She served as a wonderful mentor to me throughout the process," he says.
Hilverding adds that this project increased his knowledge of survey research, how to receive IRB approval for a project, the data collection and analysis process, and more. "The overall process really prepared me to continue to produce high-quality research in the future to contribute to pharmacy literature."
Hilverding is quick to cite other instances his ONU education will give him an edge for his chosen career path in independent community pharmacy. "I found growth in the curriculum, in professional organizations and in travel to professional meetings," he says. "The curriculum includes classes that involve developing skills around marketing, finance and entrepreneurism. Also, ONU has one of the best student chapters of the National Community Pharmacists Association in the nation."
Hilversding credits chapter advisor Deirdre Myers, BSPh '83, with helping the chapter become a multiple winner of the Chapter of the Year Award as well as a competitor on state and national levels with the Business Plan Team, of which he served as team captain. "All of these experiences are examples of how ONU has contributed to my ability to evolve in independent pharmacy," Hilverding says.
A recipient of a Cardinal Health Scholarship in 2017, Hilverding's passion for independent pharmacy actually began before arriving at Ohio Northern. "I have worked at an independent community pharmacy since high school and have always enjoyed my work," he says. "I feel a sense of pride working for a company that greatly contributes to its community. I often meet pharmacists who are also the mayor of their town. I frequently notice bake sales or car washes happening in the parking lots of independent community pharmacies. I want to be able to bring that level of service to a community one day."
Hilverding recognizes that he is embarking on a career in independent community pharmacy at tough time; he is currently a staff pharmacist at Shrivers Pharmacy. "The current landscape of independent community pharmacy is undoubtedly uncertain at this time," he concedes. "However, this is not the first time that independent community pharmacy has faced adversity in the market. What is true is that every time independent community pharmacy is challenged, it adapts."
Hilverding's ONU experience allowed him to travel to multiple conferences, where he met pharmacy owners and learned about innovative practices across the nation. Hilverding has faith in the future of independent community pharmacy. "While provider status would definitely help with the potential for pharmacists to tap into a new mode of reimbursement, independent community pharmacies will continue to find niche services or unique business models that will keep them afloat despite corporate pressures," he says. "Additionally, independent community pharmacies have withstood the test of time by offering things no other pharmacy can – personalized care and higher quality service."