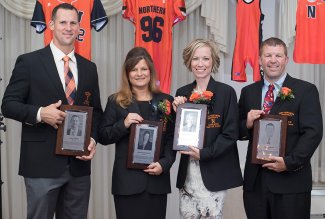 The Ohio Northern University Athletic Hall of Fame inducted four new members during recent ceremonies over Homecoming weekend at the University.
The inductees in the fall 2017 class are Ann Ringler Bassitt of Ada, Ohio, a 1997 graduate who majored in biology and played both soccer and softball; Lauren (Ernst) Grillot of Fort Loramie, Ohio, a 2007 graduate who majored in biology and was a track and field athlete; Joe Maiani of Monroe, Ohio, a 1997 graduate who majored in political science and sociology and was a wrestler; and Jason Trusnik of Strongsville, Ohio, a 2007 graduate who majored in early childhood education major and played football.
Ann Ringler Bassitt excelled in both soccer and softball during her ONU athletics career. In soccer, she was a four-year letter-winner, and she tied for the team lead with 11 goals in 1994. She was first-team All-Ohio Athletic Conference in 1994 and honorable mention All-OAC in 1995. On the softball diamond, the four-year letter-winner was first-team All-OAC and second-team All-Central Region in 1994 and second-team all-conference in 1995. When she graduated, Bassitt ranked first in career stolen bases (50), third in sacrifice bunts (28) and third in runs scored (100). She led the team with 42 base hits in 1995, 18 stolen bases in 1994, and 10 stolen bases in 1995. She tied for the team lead with 39 runs scored in 1994. She is the only Ohio Northern softball player to hit for the cycle in a single game. Beyond the athletics fields, Bassitt was involved in Kappa Alpha Theta sorority. After graduation, she worked for ONU's Office of Admissions for nine years. She is currently a science teacher at Perry High School in Lima, Ohio, and she has been voted teacher of the year by the school's National Honor Society students. Bassitt graduated from Northwestern High School in Springfield, Ohio. Bassitt has also been involved in community sports programs, participating as both a coach and board member with the Ada Soccer Association and Ada Diamonds Association. She and her husband, Jeff, reside in Ada. They have two children, Jacob and Jenna.
Lauren (Ernst) Grillot was a three-year letter-winner in both indoor and outdoor track at ONU. She was a three-time NCAA Division III national qualifier in the 400-meter hurdles and a national qualifier in the 4-x-400 relay. In indoor track, she was twice a member of the Ohio Athletic Conference champion 4-x-400 relay team. In outdoor track, Grillot was twice on the OAC championship 4-x-400 relay teams and won the 400-meter hurdles three times. She was the recipient of the prestigious Clyde A. Lamb Scholar-Athlete Award. While an ONU student, she was active in the Professional Association of Women in Science and Student Athletic Advisory Committee and served as a chemistry teaching assistant. Grillot was accepted into the Ohio State University College of Optometry a year early, causing her to forgo her senior year of track and field. She then earned a degree in optometry as well as a master's degree in vision science from Ohio State. She currently practices optometry in Fort Loramie and Sidney, Ohio, and has a passion for providing quality eye care to children. Grillot is a graduate of Fort Loramie High School. She and her husband, Ryan, reside in Fort Loramie. They have three children, Vera, Henry and Oscar.
Joseph Maiani was a standout both on the wrestling mats and in the classroom. He was the first ONU student-athlete to become a three-sport All-American and Academic All-American. Maiani was the NCAA Division III national runner up at 150 pounds in 1998, when he was enrolled in law school. He was also a two-time Ohio Athletic Conference champion. At the time of his graduation, Maiani ranked second in ONU career wins with a record of 132-37 for a 78.1 winning percentage. He was the first Ohio Northern wrestler to have four seasons of 30-plus wins. Beyond his athletic pursuits, Maiani was a tutor and was actively involved in Our Lady of Lourdes Catholic Church while an ONU student. Since graduation, he has remained engaged in wrestling. He was an assistant wrestling coach at Ohio Northern in 1998 and 1999. Maiani was also an assistant coach for three years at West Carrollton High School. He was an amateur and professional MMA (mixed martial arts) fighter and a volunteer coach for area MMA teams. Maiani has focused the drive that made him a successful wrestler in his business pursuits. He has been involved in new home sales for nearly 20 years and was second in the Dayton, Ohio, region for sales volume in 2006. He is currently senior market manager with Potterhill Homes in Milford, Ohio. He is a graduate of Sandusky (Ohio) Saint Mary Central Catholic High School. Maiani and his wife, Sarena, currently reside in Monroe, Ohio. Their children include son Charlie, daughter Sienna, stepsons Davis, Vaughn and Drake, and stepdaughters Savannah and Sophia.
Jason Trusnik has reached the heights of athletic competition. He was a two-time All-American football player at Ohio Northern before embarking on a lengthy career in the National Football League. During his Polar Bear playing career, Trusnik was NCAA Division III Defensive Player of the Year and was twice named All-Ohio Athletic Conference. He set the ONU record for most tackles for loss and sacks in both a season and a career. Trusnik was a three-time team captain and was named captain for the United States team in the Aztec Bowl. He also played in the inaugural Texas vs. The Nation Bowl in El Paso, Texas. Beyond his football exploits, Trusnik was a member of the Bear Ambassadors and the ONU Presidents Club. Following his graduation from ONU, Trusnik played for 10 years in the NFL with the New York Jets, Cleveland Browns, Miami Dolphins, Carolina Panthers, Minnesota Vikings and New Orleans Saints. He was named AFC Special Teams Player of the Week in 2009 while with the Jets and was a four-year captain during his NFL career. Since his playing days, Trusnik has pursued a career as a business owner and entrepreneur. He is owner of Pro Sports Performance, a premier athletic training facility in Strongsville, Ohio, and is co-founder of Trusnik Brothers Investments, a real estate investment company. Trusnik is a graduate of Nordonia Hills High School in Macedonia, Ohio. He and his wife, Nicole, reside in Strongsville. They have three children, Austin, Ava and Tatum.
To be inducted into ONU's Athletic Hall of Fame, one must have made great contributions to the field of athletics through athletic performances at the University or meritorious efforts made on behalf of athletics. Athletes must have attended ONU at least 10 years ago. All nominees must have demonstrated good citizenship both at ONU and beyond and served the athletics program in any capacity that contributed to the overall program.