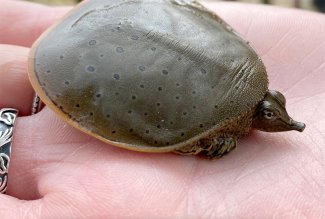 Since her freshman year, Kourtney Craft had been eagerly anticipating Field Semester. The environmental and field biology major had heard wonderful stories about it and couldn't wait to leave the classroom behind and get her hands dirty in the natural world. Then the Coronavirus pandemic broke out last spring. "I started worrying that we wouldn't get the chance to have this amazing opportunity," she said.
But dealing with obstacles is all in a day's work for environmental and field biologists. Kourtney's professors, in what could be a master class in problem-solving, reconfigured the entire Field Semester so that it could safely happen in Fall 2020. "Thankfully, we have the best professors who are so passionate about their students and they were able to come up with an alternate Field Semester schedule for us," said Craft. "They gave me a semester full of memories that I will always cherish."
The importance of Field Semester cannot be overstated, said Bob Verb, professor of biological sciences. Intense, real and exhilarating, it leads to incredible learning. "This immersive learning opportunity is often the reason a student chooses to come to ONU," he explained. "The chance to take a broad spectrum of hands-on courses and travel throughout Ohio, Florida and South Carolina for their studies is a dream come true for these outdoorsy students."
This summer, Verb and his colleagues became determined to salvage Field Semester from the jaws of the pandemic. With support and guidance from Northern administrators, they devised a plan to address the instructional and travel issues that Covid-19 presented.
The 2020 cohort of nine environmental and field biology students were required to quarantine before the semester began, to test negative for the virus, and then to isolate as a family group at the Metzger Nature Center for the first six weeks, then at rental houses in South Carolina and Florida for the following four weeks. They couldn't visit family or friends or even venture to the grocery store. "The students had to essentially commit to a lockdown in order for the plan to work, and they did," said Katherine Krynak, assistant professor of biology. "The positivity and determination of this student crew was absolutely amazing."
With precautions in place and everyone on board, Field Semester remained an immersive learning experience. Students spent seven to eight hours each day wading through streams, slogging across swamps, canvassing woodlands and waterways, and collecting and cataloging a wide variety of organisms and microorganisms. In the evenings, they spent hours identifying organisms and analyzing their findings.
Craft said electrofishing on ONU's "Roller Beast" on the Kokosing River is something the entire group will be reminiscing about in the years to come. "I also loved taking our morning hike with our professors, learning and identifying the flora and fauna."
Maddie Williams, junior, described Field Semester as the best 10 weeks of her college experience. "From hiking to various locations throughout Ohio, Florida and the Carolinas to sampling algae, macroinvertebrates and fish in rivers and creeks, it was such an amazing hands-on learning experience. I would do it all over again if I could."
Because Field Semester consists of small groups of students, they typically forge a close bond during the semester. This year's group, locked down together for 10 weeks and facing an unprecedented circumstance, became like a family.
"Even with a global pandemic going on, we banded together and had a blast," said Zeke Churchin, junior. "Not only did we have fun day in and day out, but we learned skills and knowledge that we couldn't have learned any other way. If I could go back and do it again, I would in a heartbeat."
Craft agreed: "(Field Semester) helped me realize how important my friends and my ONU family are to me and how I will absolutely be able to lean on them after graduation and into a professional setting."
2020 marked the 10th anniversary of Field Semester, and it ended up being more memorable than anyone imagined, said Leslie Riley, associate professor of biological sciences. "Facing an incredible public health challenge, our students did what they always do--they rose to the occasion. They did more than handle the situation; they thrived through hard work, positive attitudes and creative solutions. I couldn't be more proud of their accomplishments and I know that all the life lessons learning during this semester will stay with them for many years to come."