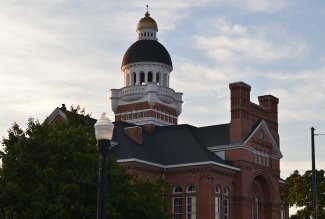 Two Ohio Northern University faculty members are involved in a project that looks to offer second chances to troubled youths in a rural northwestern Ohio county.
The Paulding County Juvenile Court has received two competitive grants totaling more than $193,000 from the Ohio Department of Youth Services. The court was awarded a three-year, $150,000 Competitive Reasoned and Equitable Community and Local Alternatives to the Incarceration of Minors (RECLAIM) grant. The court also was awarded a House Bill 153 grant for more than $43,000.
Professor of Sociology Keith Durkin and Assistant Professor of Criminal Justice Tristin Kilgallon are providing consultation and quality assurance for the implementation of programs that are supported by the grants. The efforts began Aug. 1, 2017, as part of a three-year endeavor.
Paulding County Probate and Juvenile Court Judge Michael Wehrkamp has spearheaded many of the efforts in the county, along with the county's diversion officer, Elizabeth Zartman.
"This project emphasizes rehabilitation over punishment for youths who have committed minor offenses," Durkin said. "Rather than put these young offenders in the judicial system, which often leads to more incarceration in their futures, we are looking to help these individuals get their lives back on track. The focus is more on problem-solving and helping youth avoid committing criminal acts."
The program was initiated to help get youthful first-time offenders back on track.
"This partnership and the investment of these resources are aimed at giving young people the opportunity to take responsibility for their actions and get on a path to a better future, outside of the court system," said Wehrkamp.
Zartman added, "Paulding County Juvenile Court made the determination that young people in our county need a program that will give them the necessary resources to limit their involvement in the juvenile justice system and help them thrive in our community."
The ONU faculty members share that focus.
"We want to help kids before they get into serious trouble," Durkin said. "Once in the judicial system, youths are often identified as criminals, and the system can sometimes cause more harm than good in the long run. The judicial system can be a slippery slope, especially for young people."
Kilgallon said, "Youths who commit relatively minor offenses are often locked up with older, more serious offenders, who then become their peer group. That can lead to very bad outcomes."
The grants provide resources such as the hiring of new personnel, modernized training as well as new measurement and assessment tools.
"We are putting our efforts on rehabilitation and looking to identify youth with challenges before they get into trouble," Durkin said.
Paulding County is a prime site for this type of effort.
"Having lived and worked in Hardin County, we are familiar with small, rural counties, which have similar issues that are different than those in larger, urban settings," Kilgallon said. "Often, individuals in small towns do not have the same resources or access to resources as those in urban areas because of challenges such as lack of transportation."
Durkin said, "A county such as Paulding is ideal for this type of effort because it is relatively small. It is easier to get everyone on the same page. Plus, court officials, elected officials and others live in the county where they work and are heavily invested in its people."
The project will eventually provide research opportunities for ONU students, beginning in the second year, when there is significant enough data to analyze.
"We will be able to involve our students in aspects such as data-tracking to measure results and to determine what is working and what trends are developing," Kilgallon said.