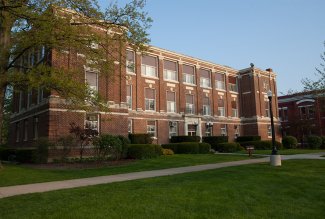 Three Ohio Northern University faculty members are involved with securing cross-institutional collaboration grants from New American Colleges & Universities (NAC&U).
Associate Professor of Public Relations Alisa Agozzino wrote a successful $2,600 grant proposal for a video training series directed toward implementing or participating in student-run public relations firms. Collaborators include fellow ONU public relations faculty member Kathie Fleck, assistant professor of public relations, and Kevin Trowbridge, a faculty member at Belmont University in Nashville, Tenn.
Also, ONU Associate Professor of Religion and Philosophy Forrest Clingerman wrote a winning proposal for $3,400 involving climate technologies and religious studies. He will collaborate with Kevin J. O'Brien, associate professor of religion and dean of humanities at Pacific Lutheran University in Tacoma, Wash.
The public relations project will involve Public Relations Student Society of America (PRSSA) faculty advisors joining forces to develop a series of training videos to provide insights to college public relations students on how to develop and sustain student-run PR firms. These endeavors are invaluable for providing students with high-impact learning experiences that serve as a bridge between the classroom and the professional world.
This project will combine the resources of high-quality public relations programs at two universities. Of more than 340 PRSSA chapters internationally, only those at ONU and Belmont have been recognized as Star Chapters every year since the award's inception in 2009. This award recognizes chapters that demonstrate outstanding professional and chapter goals.
Clingerman's collaborative project is designed to initiate new work on climate technologies and religious studies in pursuit of two goals. The first objective is to enhance past research by connecting it to the undergraduate classroom. The second is to explore resources for teaching about the intersections of technology, climate change and religion. These approaches will be applied to Clingerman's "Christianity and the Natural World" course as well as O'Brien's "Social Justice" course.
As Clingerman states in his project proposal, "As scholars and teachers of religion, we believe climate change points to the need for more interdisciplinary and collaborative work in which religious studies can be incorporated into broader public debates."
Further, the grant will allow the two participating faculty members to travel and meet with environmental studies faculty members as well as experts on climate change and climate engineering at the University of Washington. The insights that are gleaned from the meeting will help set parameters for future interdisciplinary projects in the areas of climate technologies and religion.
These projects are funded by the NAC&U Collaboration Growth and Grant Program, which is designed to facilitate connections between faculty members at member institutions and to seed collaborate projects in the areas of teaching, service, research and scholarship.
Founded in 1995, NAC&U is a national consortium of selective, small to mid-size (2,000-7,500 students) independent colleges and universities dedicated to the purposeful integration of liberal education, professional studies and civic engagement. NAC&U members, collectively and individually, are often cited as models of the intentional integration of teaching and learning, scholarship and service.